Every year, Imagine for Margo launches a major national awareness campaign on childhood cancer, thanks to the tremendous generosity of photographer Peter Lindbergh, Mika, Stephen Kidd, the creative and media agencies Mindshare, Zorba, Reuilly&Associés, DaisyDay and many media supports.
In 2017, all the media supports have, once again, answered positively to our demand, touched by our cause as well. Throughout the month of September, our campaign is on television, on outdoor posters, in the press and on the internet ! In total, several millions of French people will be made aware of childhood cancer thanks to this 2017 campaign.
This year, our multimedia campaign will be broadcast during february to echo the International Day of Childhood Cancer on February 15th

2017 CAMPAIGN 
OUTDOOR POSTERS AND PRINT
The campaign key visual is one of the outstanding visuals shot by photographer Peter Lindbergh during our trip in Camargue in 2015, with Mika and 6 little warriors.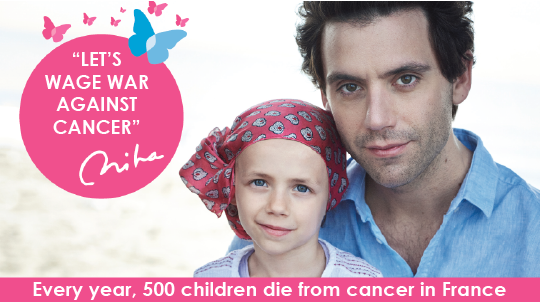 OUTDOOR CAMPAIGN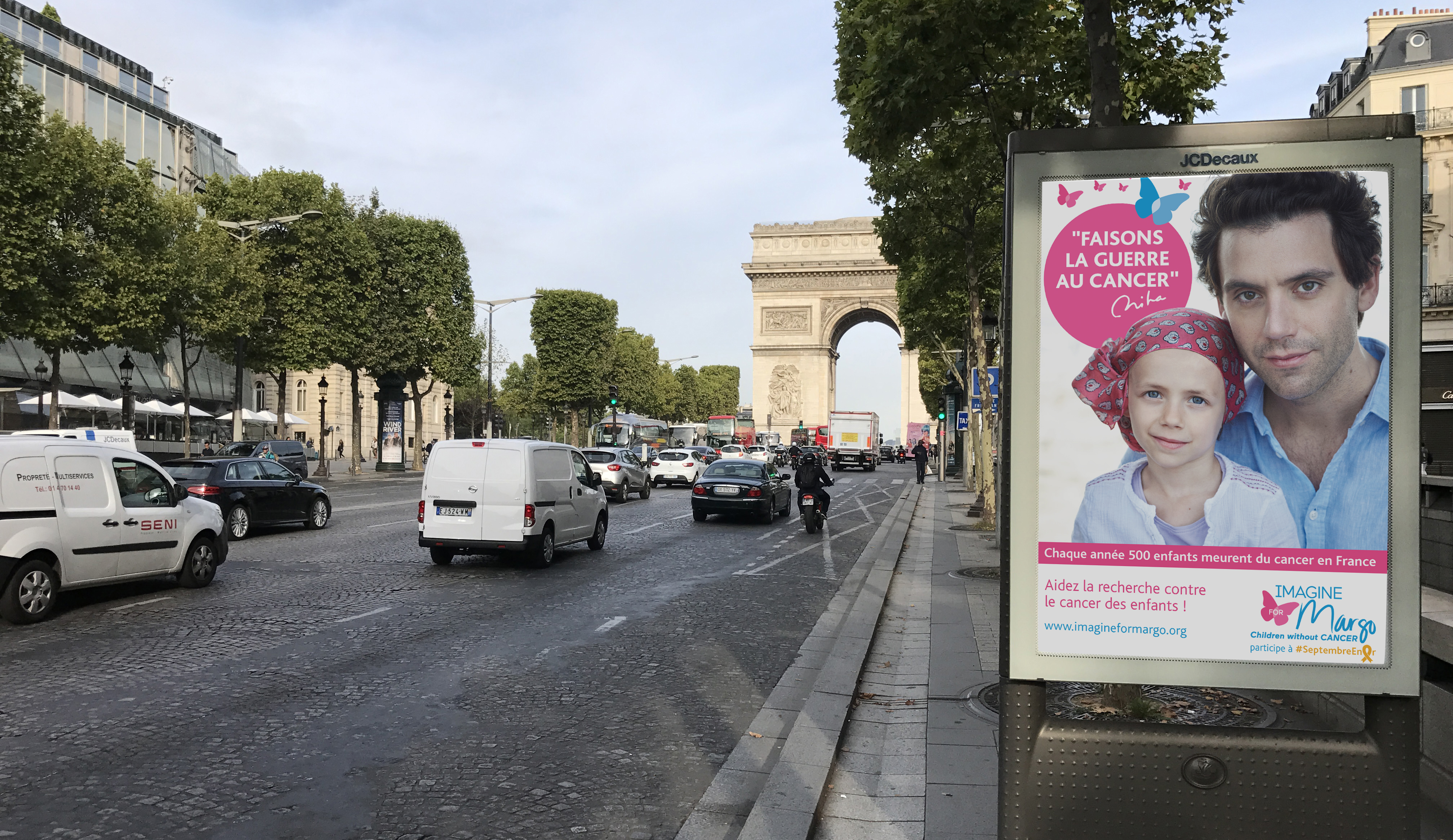 An immense THANK YOU to JCDecaux, ClearChannel, Mediagares and Insert who have been supporting us generously since several years, and welcome to Exterion who has joined us in 2017.
Thanks to their networks, we benefit, this year again, from an exceptional outdoor campaign with a few giant formats (8m2 !), in Paris and other big French cities (Lyon, Marseille, Lille, Bordeaux and Nantes).
PRINT CAMPAIGN
A big THANK YOU to all the magazines which offer us free publications every year as well. In 2017, many support us: Courrier International, Le Parisien, L'Express, Le Monde, L'OBS, Libération…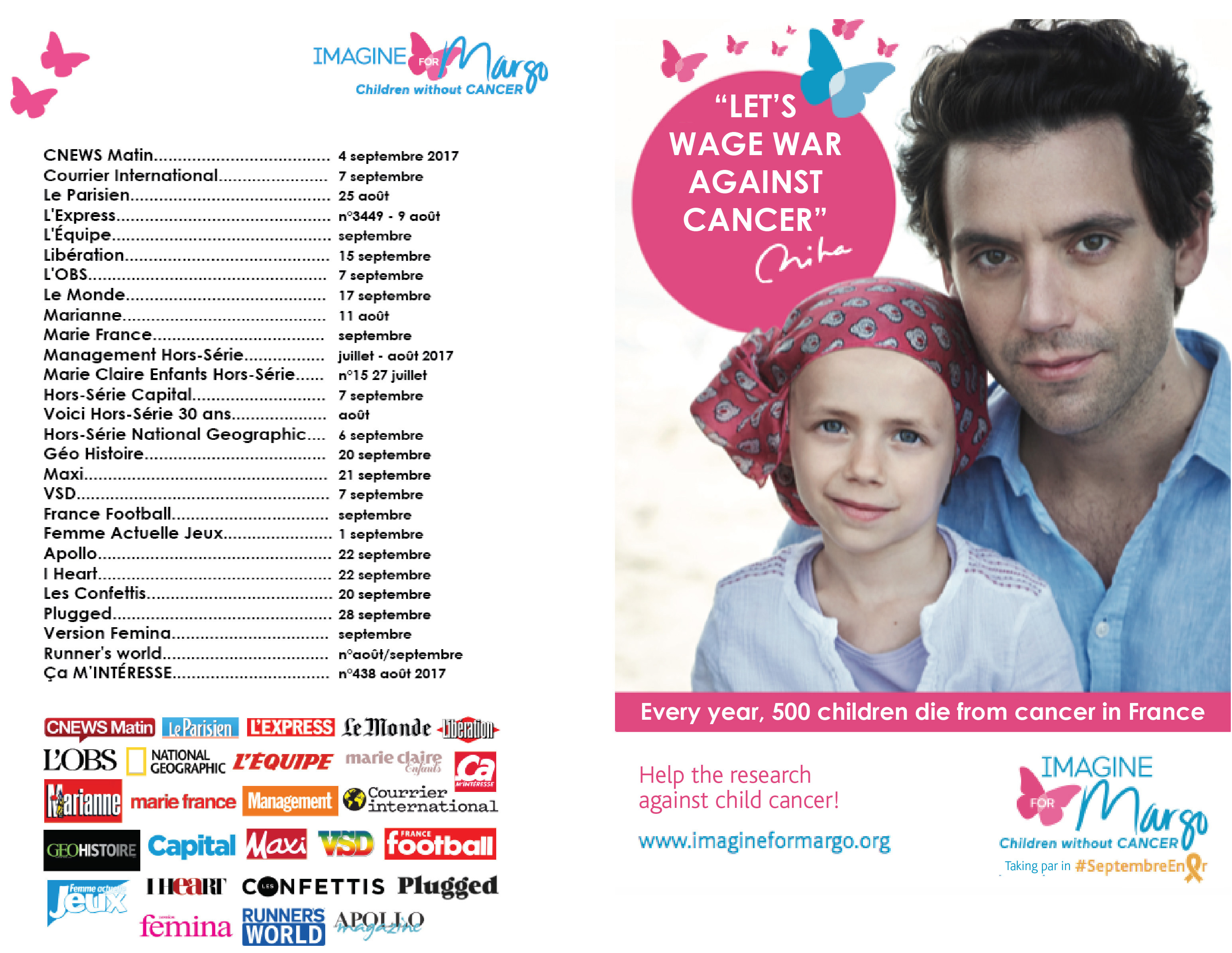 IMAGINE FOR MARGO ON TELEVISION AND ON THE INTERNET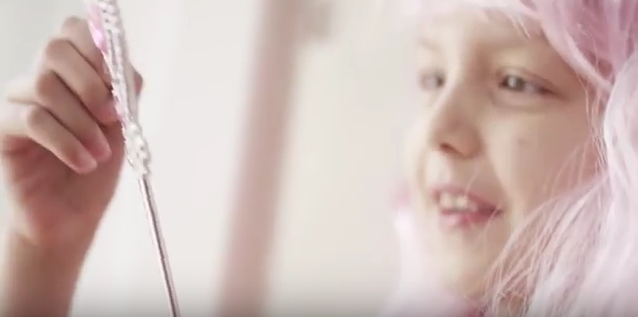 In 2017, it is the very moving film produced by Stephen Kidd that is aired on television and on the internet: "Cancer is not a child game"
A 30 seconds clip, based on a script written by Christian and Elsa Reuilly. It stages two little warriors, Maya and Djibril, who play together, wearing a wig to hide the fact that they don't have hair anymore because of their treatments. A film that shows both the hard reality of cancer and the enthusiasm and the infinite joy of life of children, as a carelessness interlude in their daily fight against cancer…
An immense thank you to  Stephen Kidd for those beautiful images, to Maya and Djibril for their good spirit and their talent, to Christian and Elsa Reuilly for the script.
Thank you to all the television channels that have been supporting us since 2016 and air our film on their networks for free. In 2017, a lot of them have accepted to support our cause : TF1, France 2, France 3, France 5, CStar, France Ô, Canal + Sport, CNEWS, Infosport +, RFM TV, Comédie +, Planète A&E and Elle Girl.
Thank you to all the digital networks that broadcast our film as well. In 2017, thanks to M6, Dailymotion, BFMTV, Au Féminin and many others, several millions of French people will be made aware of our cause on the internet.
ACKNOWLEDGEMENT
A BIG THANK YOU to Reuilly&Associés, Zorba, DaisyDay and Mindshare, big hearted agencies which worked non-stop for this campaign to be seen everywhere in France on all media supports.
THANK YOU as well to all the media which generously and loyally give us free space in 2017.