THE BIGGEST CHARITABLE RACE FOR A CAUSE IN FRANCE!
For 6 years already and every year, the association Imagine for Margo has organised the "Children without Cancer " race, a sport event to help contribute to the financing of research programs on childhood and teenage cancer. This sports event whose 6th edition took place on September 24th 2017, has become a traditional event and so far has helped collect more than 5.6 million euros for research against cancer. Whether you are a sports aficionados or beginner, you can choose between a 5-kilometer track (walk or race) or a 10-kilometer race, alone or with a team: a lot of energy, emotion, joy and solidarity along a very animated and friendly itinerary. Racers, donators, volunteers, researchers, all participants are there to make this sport event an amazing day for the kids!
MUCH MORE THAN A RACE: AN ADVENTURE FULL OF EMOTION
Imagine for Margo's main goal is to contribute to the developing of research on childhood cancer, by collecting funds and raise people's awareness. The race "Children without Cancer" is a perfect example. Even if the participants are race amateurs, their aim is to defend a cause dear to their hearts and to run with our godfather Christophe Dominici and researchers who have been fighting beside us since the beginning.
MORE SOLIDARITY EVERY YEAR
Since 2012, the race counts more and more participants and has become the biggest charitable race for a cause in France.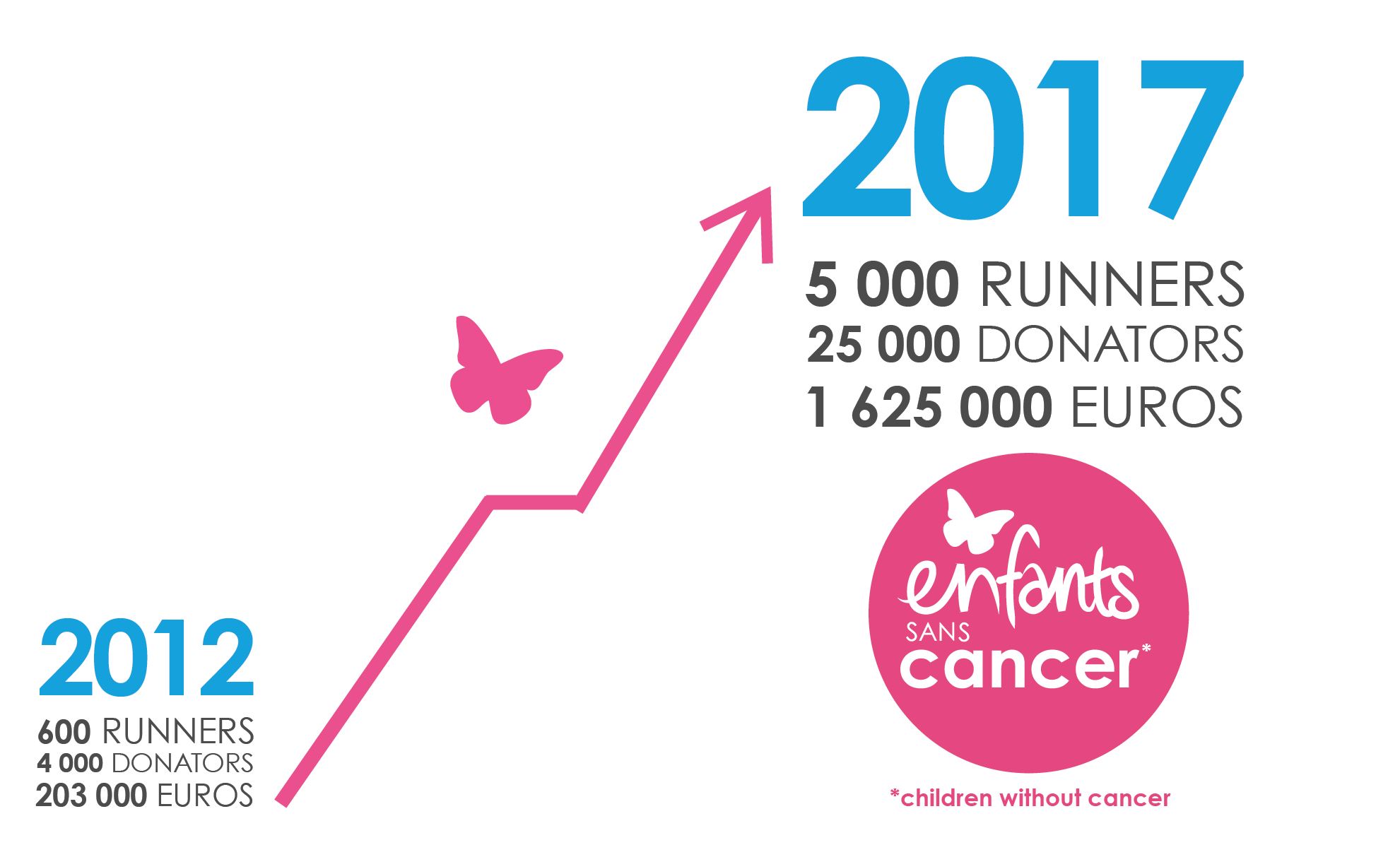 RUNNING IS GOOD BUT RUNNING FOR A CAUSE IS EVEN BETTER!
FOR WHAT HAVE WE RUN IN 2017? Like every year, all donations to the "Children without Cancer" race will be fully donated to research. The exceptional amount of 1.625.000 euros, collected by the last race, will finance two precision medecine programs: • MAPPYACTS, a transverse program for children whose treatment for all types of cancer or leukemia failed. "Louis* is 11 years old and was diagnosed with a very rare sarcoma which developed rapidly despite available treatments. Thanks to MAPPYACTS, we have been able to find an abnormality in his tumor and suggested a new medicine. The tumor decreased very quickly and Louis is now in partial remission and is back with his family" (*changed name)-  Dr Birgit Geoerger, in charge of the MAPPYACTS program. • BIOMEDE, the first and only european trial proposing an innovating treatment right after the diagnosis to children with a diffuse intrinsic pontine glioma (DIPG), a tumor whose diagnosis is very somber. "Thanks to Imagine for Margo we are able to better understand diffuse intrinsic pontine glioma and hope to find a really efficient treatment someday" – Dr Jacques Grill, in charge for the BIOMEDE program. We also wish to accelerate BIOMEDE 2.0 program by financing the first 80 patients scheduled in 2018. "Thanks to the major support of Imagine for Margo to the Innovative Therapies for Children with Cancer (ITCC) European Consortium, we speed up the development of therapeutic innovations for children in France and in Europe" – Pr Gilles Vassal, Gustave Roussy institute, President of the ITCC. To find out more about the 2 programs financed in 2017, click here! 
Relive the highlights of the 6th edition of the «Children without Cancer» race, through these beautiful photos and the video of this wonderful day:
Find the others albums:
WHY WE HAVE BEEN RUNNING SINCE 2012: A REAL BOOST FOR RESEARCH
Together we have done great things! Since the first edition, innovating and specific research programs have been financed thanks to numerous racers/contributors who believe in our cause. The VINILO project, managed by the Gustave Roussy institute on low grade gliomas, the BEACON project on neuroblastoma, BIOMEDE on diffuse intrinsic pontine glioma (DIPG) or the ESMART project – a unique trial part of the Precision Cancer Medicine program of the ITCC- have been launched and have permitted to improve many children's daily lives. Find here all the research programs co-financed by Imagine for Margo.