Even though pediatric cancers are not the same as those in adults, only 2 % of cancer research expenditures are allocated to  pediatrics and more than half of current treatmentsare « off label », meaning that they are not officially authorized for use on children. This is unacceptable.It is therefore essential to accelerate development of specific treatmentsand to allow faster access to more effective and innovative treatmentsfor children and adolescents affectedby cancer.
The association Imagine for Margo is mobilized to:
– Contribute to the development of medicine specifically forchildren– Reduce delays accessing innovative treatments– Favor access to safe clinical trials more appropriate for pediatric oncology– Push for European regulations incentivizing pharmaceutical companies to invest in pediatric research.Imagine for Margo, through its multiple actions is mobilizing the French and European authorities to put in place a legal framework that would permit development of specific medicines for children and allow more rapid access to innovative treatments.
I. Current actions
In France :
Five working groups includingseveral parents'associations are monitoring the major themes of the February 15, 2014 colloquium in the Senate "Towards Specific Research on Childhood Cancer":– Application of Cancer Plan 3 – Implementation of a pediatric research program by the major financiers of research(Foundation ARC, "La Liquecontre le cancer") – Creation of achildhood cancer and research observatory – Modification of European pediatric regulation – Proposal of French and European regulations to encourage specific investments in pediatric research.
We are working hand in hand on these initiatives withnumerous associations: 
"Fédération Enfants—cancer- santé", SFCE, Cent pour sang la vie, le défi de Fortunée, le Groupe franco-africain d'oncologie pédiatrique, l'association Hubert Gouin enfance et cancer, Laurette Fugain, l'Etoile de Martin, Lisaforever, Princesse Margot, Tous avec Clément, ainsi que Kidsvcancer (USA) et  ICCCPO (International Confederation of Childhood Cancer Parent Organizations
At  the international level :
Participation in the BDA-ITCC-ENCCA-SIOPE Pediatric Oncology Task Force working groups
Approximately one hundredrepresentatives of the pharmaceutical industry (doctors and researchers), academics, regulators (French and European) and parents' associations met in December, 2011, andagain in November, 2013, with the aim of improvingdevelopment of treatments for children and teenagers affected by cancer.In November, 2013, 4 working groups were created.Patricia Blanc is a member of this international task force's Steering Committee and leads the working group "Propose new incentives for the development of specific pediatric drugsand the repositioning of drugs that fail in adults."Preliminary results of this work will be presented in February 2015 during the 3rd seminar.
Intervention at the conference SIOPE ENCCA 18-19 September 2014, Brussels 
Patricia Blanc will participate in a session entitled « Research and Innovation, increasing the cure rate»
II. Completed actions
– 
26 Janvier 2015 : réunion de travail au Ministère de la Santé
 pour préparer notre colloque "vers une recherche spécifique sur les cancers des enfants" à l'occasion de la journée internationale du cancer de l'enfant . Des discussions ont démarrées pour travailler avec le Ministère sur le changement de la Règlementation européenne dont la France serait leader.
-21 janvier 2015 : Institut National du Cancer
 – réunion du Comité Interface Cancéropédiatrie .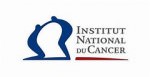 Point sur les avancées des mesures du Plan cancer après 1 an, sur invitation du Pr Agnès Buzyn Présidente du l'Institut National du Cancer .
-Déc 2014 : Publication dans la revue "European Journal of Cancer"

Article intitulé "Creating a unique, multi-stakeholder Paediatric Oncology Platform to improve drug development for children and adolescents with cancer" . Patricia Blanc est membre du Comité exécutif de cette plateforme européenne et préside le groupe de travail " New incentives for specific paediatric drugs and drug repositioning" .lien à l'article : 
European Journal of Cancer
-Déc 2014 Prix franco-Suédois des jeunes chercheurs sur le cancer des enfants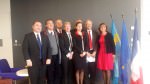 Patricia Blanc a témoigné sur la terrible épreuve de la perte d'un enfant et sur les actions menées par l'association en présence de la Première Dame d'Honneur représentant 
S.M. la Reine Silvia de Suède
, et de 
Mme Marisol Touraine
, Ministre des Affaires Sociales et de la Santé qui a publiquement souligné "le travail remarquable réalisé par l'association Imagine for Margo" .
– Sept 2014  Conférence SIOPE ENCCA à Bruxelles
 :

Patricia Blanc a participé à une session  intitulée ; «Research and Innovation, increasing the cure rate» (recherche et innovation : augmenter le taux de guérison). Cette conférence a notamment permis de discuter et présenter le plan d'action 2020 pour augmenter le taux de guérison et la qualité de vie des enfants atteints de cancer.
-In May, 2014: intervention at the annual seminar of ICCCPO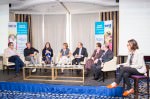 On the theme « What can parents' associations do to help in the development of specific medicine for childhood and adolescent cancers? »
-On May 22nd, 2014: meeting with the French Minister of Health Marisol Touraine, two of her advisersand AgnèsBuzyn, President of the National Institute of the Cancer (Inca).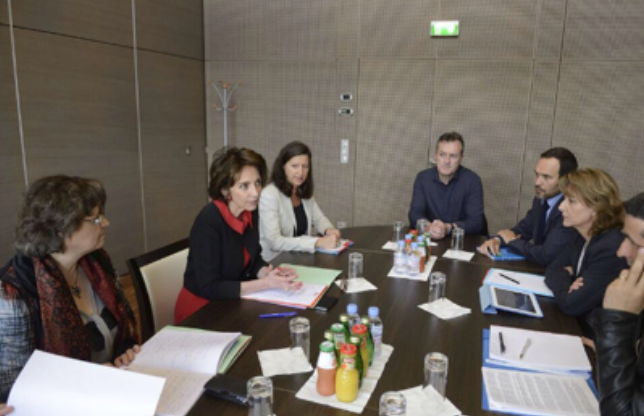 We showed our determination to implement measures included in the Cancer Plan 3 for children and adolescents, and proposed that France push for European regulations which would incite laboratories to investin pediatric research such as what was done underthe Creating Hope Act, voted in 2012 by Barack Obama.
-On February 15th, 2014: mobilizedforthe little known situation of children with cancer and discussed legislation which would incentivize pediatric research.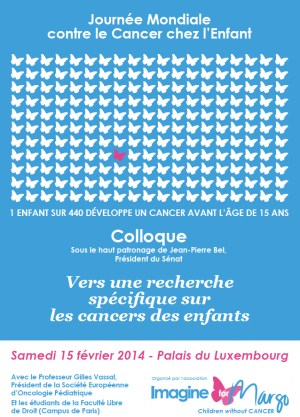 On Saturday, February 15th, 2014, International Childhood Cancer Day. Imagine for Margo organized at the Luxembourg Palace, under the high patronage of the President of the Senate, a colloquium on specific pediatric researchwhich assembled the leading actors in this field:  politicians, researchers, doctors, laboratories, associations, affected patients and law students. An afternoon of discussions and exchanges to find solutions favoring research on pediatriccancers. The discussions were rich, highly informed and sometimes lively.Communicationis ongoing between the various participants and parents associations in order to monitor and transform the proposals from the colloquium into concrete actions.
The videos of the colloquium:
Introduction-Sénateur A.Gournac
Plan Cancer 3 Pr A. Buzin (INCA)
Le règlement pédiatrique européen
Creating Hope Act – Nancy Goodman
Les cancers pédiatriques – Pr G.Vassal
Témoignages de malades
Conclusion- Sénateur C.Deroche
Photos of colloquium   The presentations – November 15th, 2013:  participationin the ITCC 10th anniversary day, with more than 120 participants from the medical world.
ITCC presented both of the therapeutic trials we finance (VINILO on low grade gliomas and BEACON on neuroblastomas) and Imagine for Margo, who also presented 2 years of partnership  with ITCC, was warmly thanked for its support.
To learn more about it
-November 18-19th, 2013: intervention during the BDA international seminar.
The Annual Meeting of the BDA (Biotherapy Development Association),bringing together pharmaceutical companies, researchers, regulators and parents' associations, washeld on November 18th and 19th in Paris.  Patricia Blanc, President of Imagine for Margo made a presentation.
To learn more about it
– 2013: mobilization during discussions about the Cancer Plan 2014 – 2019 (Cancer Plan 3)
Throughout 2013, during discussions about Cancer Plan 3, we strongly campaigned ministries, representatives and senators to ensure that measures covering development of pediatric research could be included in the new plan.Mobilization within the framework of Cancer Plan 3In addition to the proposals we sent to Pr Jean-Claude Vernant, in charge of providing recommendations for the Cancer Plan 3, we led several actions:– Ministry of Social Affairs and Health – March 16th, 2013, Interviewwith Mrs Catherine Bismuth, adviser toHealth Minister Marisol Touraine– Senate – May 09th, 2013, Questions asked by Yveline'sSenator Alain Gournac to the Health Minister Marisol Touraine,
 answered in session on July 24th 
– ElyséePalace – September 17th, 2013, Interviewwith Pr Lyon-Caen, adviser to François Hollande for Health and Medical research.
To learn more about it
– In February 20th, 2013: International Childhood Cancer Day at the European Parliament
Intervention on the bill concerning pediatric clinical trials.Patricia Blanc's speech during World Childhood Cancer Awareness Daychallenged members of Parliament on the small number ofinnovative and specific treatments for children and teenagers and the lack European clinical trials.  She requested simplification of administrative procedures which take too much time and energy, as well as the implementation of an European specific funddedicated to research on childhood cancer.
To learn more about it
– In November, 2012: Pediatric Regulation: Imagine for Margo mobilize associations with the European Commission
Imagine for Margo mobilized the representatives of 237 international associations to give a boost to development of new, specific and innovative medicine for childhood cancer.The European Commission initiated public consultations on Pediatric RegulationNo. 1901/2006 to collect opinions and publishin early 2013 a reporton its application. With no amendments in the law planned prior to 2017, it was a once-in-a-lifetime opportunity for parents'associations to express their opinions on the improvements and changes required immediately, without waiting for 2017! The response to the public consultation, initiated by Imagines for Margo, was accepted and jointly signed by representatives of 237 French and international associations, who came together for maximum impact on members of Parliament.
To learn more about it
– In October 5-7th, 2012: participation in the Congress SIOP (International company of Pediatric Oncology) in London
To learn more about it
– In February 7th, 2012: International Childhood Cancer Day at the European Parliament – intervention on application of Pediatric Regulations
Our presence aimed at heightening awareness and remindingmembers of Parliament about how difficult it is to apply European Regulationsconcerning pediatric medicine.Indeed, while this regulation intended to facilitate access to new medicine is a great step forward, administrative red tape and multiple interpretations by member states have resulted in no increase in the number of number of anticancer treatments, and the great majority of the children in therapeutic failure have been denied access to innovative medicine.
To learn more about it
– In December 5-6th, 2011: intervention at the 1st seminar of pediatric oncology in London
New medicine for children and adolescents: Where are we? What are the issues?Numerous discussions around better cooperation between researchers, pharmaceutical companies, parents' associations and European and American legislators to more quickly develop innovative medicine and to insure better long-term follow-up of patients.This seminar led to an agreement on 7 priority actions to undertake, all sourcesof hope.
To learn more about it