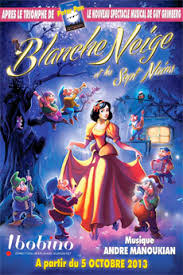 A huge THANK YOU to the talented troupe of the musical Snow White, and to the producer Guy Grimberg for their support of the association and to the cause of children's cancer!
Thanks to their generosity, from October 2013 to the end of March 2014, no less than 34 families with sick children have attended this show. The children were delighted, both boys and girls, they have all enjoyed an excellent time and will keep a beautiful memory.
This project has been in cooperation with Gustave Roissy, the Centre Hospitalier of Poissy, and the associations Lisaforever and Princesse Margot.
A big THANK YOU all.