A big sports and associative challenge for Imagines for Margo.
A great team undertook a cycling challenge: Paris / Beauvais and Paris / London in 3 days.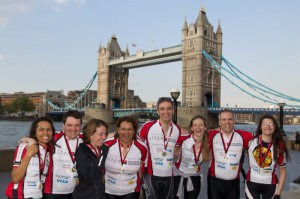 – On June 11th: Paris-Beauvais, 107 km between the Saint-Martin canal and the Beauvais station
– On June 12th: Beauvais-Dieppe, 123 km; then the ferry from Dieppe to Newhaven in England.
– On June 13th: Eastbourne-London, 146 km, and arrival at Potters Fields across from Tower Bridge.
A magnificent initiative to collect funds for Imagines for Margo.
To help them, donate or promote this event using the collection page:  http: // www.alvarum.com/paristobeauvaislondon2014
A big thank you to Didier, Henri, Nawal, Audrey, Marianne, Eric, Antoine, and Marc-Alexandre for their support. Our thoughts are with you for this big challenge!