A fun and effervescent festival!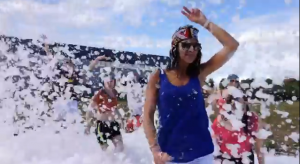 Première édition pour le Bubble Day qui se déroulera le Dimanche 6 Juillet dans le Bois de Boulogne sur les pelouses de Saint Cloud de 10h à 20h. The Bubble Day débutera par un parcours original de 5 kilomètres dans des milliers de mètres cube de mousse et de bulles puis les Bubble runners profiteront d'un village conçu pour varier les plaisirs: de courir, de rencontrer, de s'amuser, de s'éclater dans la mousse, de danser au soleil et de participer à un démarche solidaire. En effet Imagine for Margo sera présente puisqu'elle fait partie des associations soutenues par cet événement.

Bubbles, foam waterfalls, music and solidarity!
SIGN UP QUICKLY http: // thebubbleday.com
CODE PROMO "I4M" POUR PROFITER DE 20 %!