AN EXCEPTIONAL DAY
Sunday, September 25, 2022, at the "Domaine national de Saint-Cloud" and connected from Nantes, Bordeaux, Lyon, Marseille and even Mexico City or Berlin, a blue and pink tide rushed against childhood cancer with 5,800 big-hearted runners and walkers.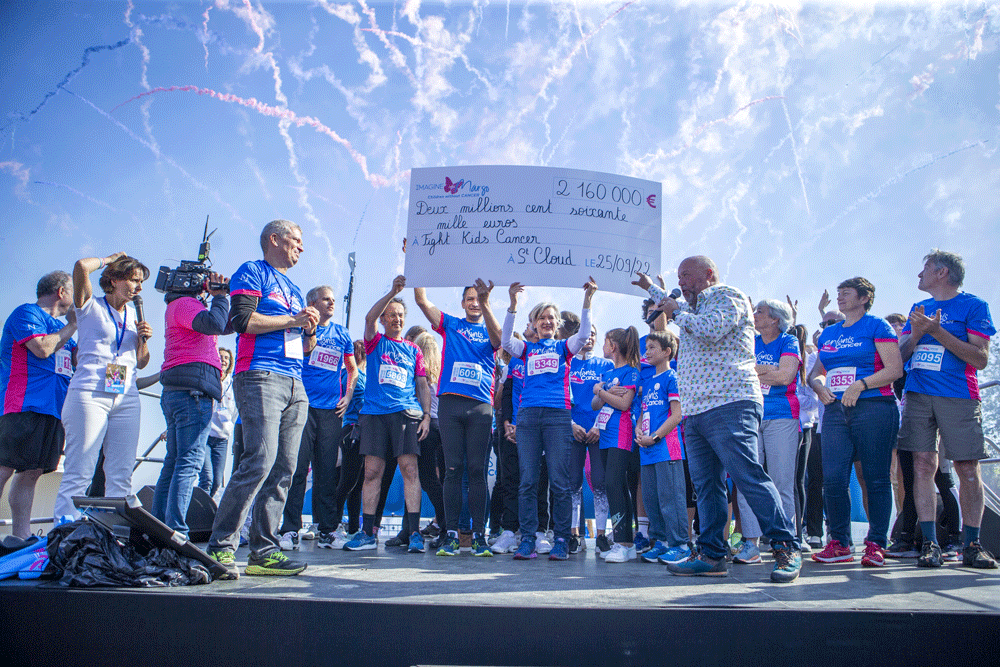 Thanks to their mobilization, and the generosity of more than 24,000 donors and many partners, a superb record check of 2,160,000 euros was given to the researchers.
This sum will be supplemented by those collected during the other races organized the same weekend in Luxembourg and Belgium and Italy two weeks later by the associations partnering with Imagine for Margo. In total, more than €3,700,000 will be allocated to research on pediatric cancers via the call for European projects Fight Kids Cancer.
"Today, our race towards a world with cancer-free children has once again broken all records. Thanks to the mobilization and support of our partners, donors and runners, who are more and more numerous year after year, we are accelerating our fight against pediatric cancers. It is together that we will overcome. As Margo said: GO, FIGHT, WIN." – Patricia Blanc, Founding President of the Imagine for Margo association.
With this 11th edition of all records, thanks to everyone's commitment, we are taking a new step towards a world with children without cancer.
AN 11th EDITION PLACED UNDER A GOLDEN SUN
With more than 5,000 runners and walkers on site, the "Domaine national de Saint-Cloud" literally changed colors for a few hours. Bathed in the sun and the morning dew, the participants began their day as soon as the village opened at 8 a.m. with some entertainment and a double Dutch show then breakdance before warming up with the sports coaches of Swedish Fit.
At 9:30 a.m., participants connected everywhere in France and around the world joined the race LIVE to experience this unique day live. Melvie, the LIVE host who co-hosted this edition with Daniel and who was in Saint-Cloud, took the participants to the four corners of the village from a distance. Visiting the tents, going to the tattoo stand, photos… everything was done to ensure that the live experience was the same as in Saint-Cloud.
During this time, all the runners and walkers of Saint-Cloud gathered in front of the starting line. After a few safety instructions and speeches by our founders Patricia and Olivier Blanc and Sarah Ourahmoune, godmother of the race, all the participants were able to discover the message of our two new sponsors Mehdi Frère (connected) and Jimmy Vicaut. These two runners had put on their best sneakers to participate in our race against childhood cancer.
At 10 a.m., the starting signal was given by our big-hearted godmother, the Republican Guard. 6 horseback riders greeted our solidarity runners and walkers. During the race, participants were able to enjoy the Republican Guard quintet and many other activities. Those connected could take two live sports lessons if they could not run or walk. Marion Laloue, sports coach and host on French TV channel C8 on the Gym Direct show, gave a muscle building class followed, a few minutes later, by an Afro-Caribbean dance class led by the Afrovibe team.
After meeting their sporting challenges, our big-hearted participants, in Saint-Cloud and connected, followed a stretching session to avoid aches the next day. This moment of recovery then gave way to a collective moment where participants, personalities and the organization team, hand in hand, jumped from left to right, all together, to show their union in this fight against pediatric cancers. Our best collectors were then rewarded for their exceptional mobilization, then we paid tribute to the little warriors who are fighting against disease and to all our stars that shine in the sky… We were all gathered for and with them. It was then, after a clapping of madness, that the superb check of 2,160,000 euros was given to the researchers.
Our solidarity event ended with a fabulous concert by Gwendal Marimoutou and a DJ set by Jean Tonique.
GOOD JOB AND THANKS TO ALL !
THANK YOU to Daniel Gaïnetdinoff and Melvie Paillet for co-hosting this 11th edition.
THANK YOU to the personalities present today Sarah Ourahmoune, Jimmy Vicaut, Mehdi Frere, Gwendal Marimoutou, Moulet Erika, Inoxtag, Jean Tonique, Julien Gauger for their commitment by our side.
THANK YOU to the Republican Guard, our big-hearted godmother for giving the start of this exceptional edition.
THANK YOU to all our partners thanks to whom we can donate 100% of the donations collected to research: Crédit du Nord Group, Naturopera, ALD Automotive, Île-de-France Region, Captain Prod, Orano, Société Générale Factoring, Société Générale Assurances, Chronopost, Talents et Partage, Eurocom Group, Feed, Eau de La Reine, La Famille, Laurance Primeurs, Roam, Day by Day, Super U, Ta Communication, Indigo Group, Sweedish Fit, Josepho, Weezyou Services.
THANK YOU to the entire production team and the Captain Prod production team as well as to Alvarum for the LIVE.
THANK YOU to KCO Event for organizing the race in Saint-Cloud.
Thanks also to Hill+Knowlton Strategies Paris and GroupM for their support and help.
And a huge THANK YOU to all our big-hearted volunteers without whom nothing would have been possible!
Together, let's continue to fight against the leading cause of death by disease in children over the age of one.
GO, FIGHT, WIN !