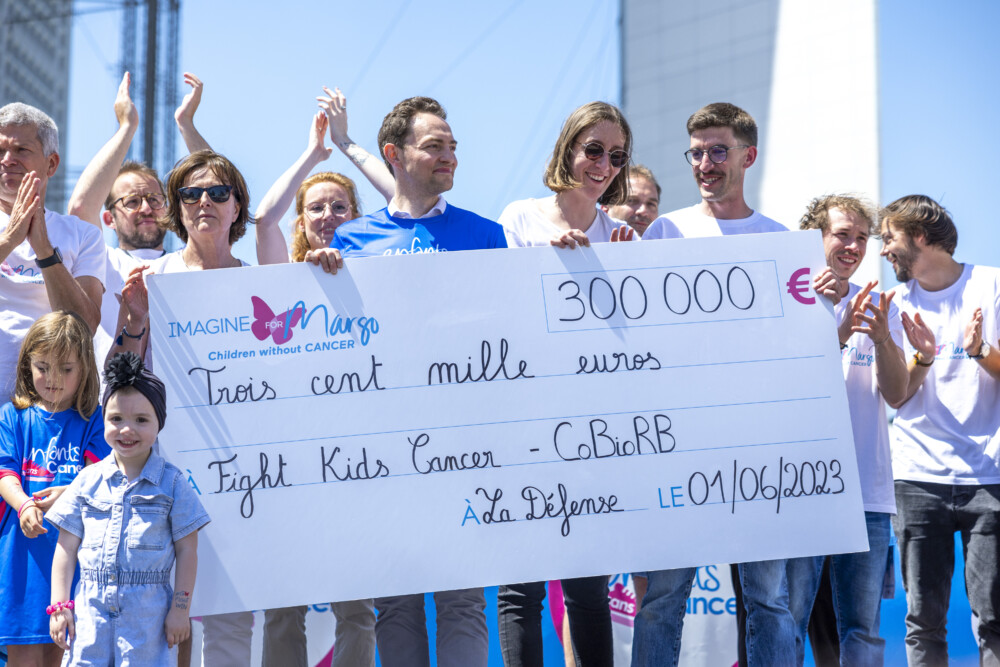 On Thursday June 1, 2023, the Children without Cancer City race returned to the forecourt of La Défense near Paris. On the occasion of this record edition, the largest business district in Europe saw a veritable pink and blue wave crossing its aisles. Indeed, for a few hours, 1,400 runners and walkers and more than 60 committed companies gathered for a "solidarity lunch" break. Their goal: to run against the leading cause of death by disease in children over the age of one in France and Europe.
Patricia Blanc, Founding President of the Imagine for Margo association: "This year, the solidarity strides of more than 1,400 runners and walkers in the great heart of Europe's largest business district have once again resounded for the good cause. Thanks to their mobilization and that of their companies, we are taking a new step towards a world with Children without Cancer. It is by continuing to run together that we will overcome this scourge. GO, FIGHT, WIN! »
 1,400 runners in solidarity against childhood cancer
The 1,400 solidarity runners from La Défense had an appointment from 11 a.m. in the village set up by the Imagine for Margo teams. After picking up their bib and their t-shirt, specially designed by street artist Jordane Saget, all participants were invited by the event's host, Steeve Kondo, to take advantage of the many activities set up by the association. Breakdance and BMX shows, photo booth, tattoo workshop, participatory work proposed by Jordane Saget… Everything was there to get this solidarity lunch break off to a good start.
The morning ended with a warm-up session, in the open air, carried out by Neoness coaches who came specially for the occasion. After a launch speech, the "starting signal" for Children without Cancer City was given by Olivier Blanc, organizer of the races within Imagine for Margo.
Over 5 or 10 km, participants were able to run for a great cause. All under glorious sunshine. The route was also punctuated with entertainment (cheerleaders, beatboxers, brass bands, etc.).
For an hour, the association's blue and pink t-shirts colored the paths from the Parvis de La Défense to the Paris La Défense Arena. In total, several thousand kilometers have been run through to fight childhood cancer.
This moment was concluded by the traditional presentation of the association's check to the researchers. Indeed, after a moment of emotion and a collective clapping, €300,000 was given to Professor Matet Alexandre of the Institut Curie to finance the CoBioRB research project in particular. This sum, entirely allocated to research against childhood cancer, was collected thanks to the mobilization of the runners, the generosity of many donors and partners: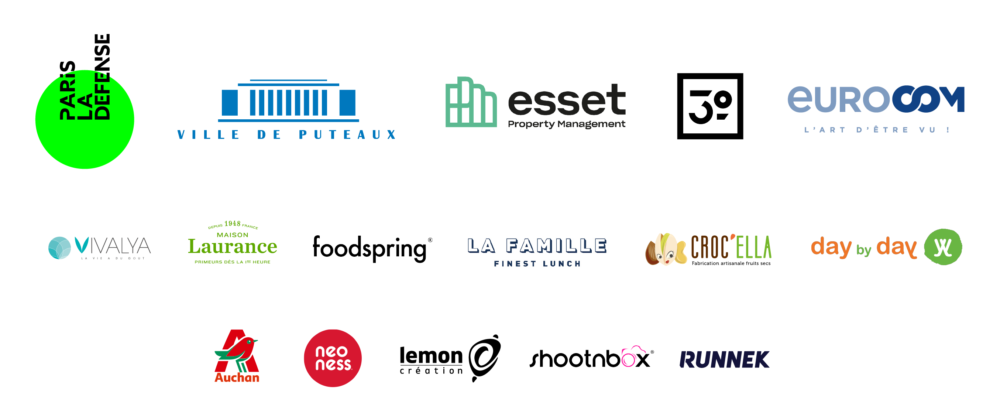 CoBioRB, a program to fight against retinoblastomas
The CoBioRB program aims at identifying genetic biomarkers to improve risk-stratified treatment in retinoblastoma.
The main challenge is to identify children at risk of metastasis. Risk stratification is essential to reduce treatment and minimize late toxicity in low-risk children, while allowing intensification of treatment for higher-risk children.
In this project, the genetic and genomic characteristics of retinoblastoma subtypes will be characterized in order to identify biomarkers for the treatment of metastases. The results will be correlated with the clinical course. These biomarkers could help identify patients at risk of metastasis to reduce late effects of treatment in others.
By funding this program selected as part of the Fight Kids Cancer call for projects, Imagine for Margo wishes to lay the foundations for a pan-European "EURBG2" clinical trial on biomarkers for risk stratification of adjuvant treatment for retinoblastoma. To learn more about the CoBioRB program, click here.
A next sporting and solidarity meeting in September 2023
After this new successful urban edition, the Imagine for Margo association invites you to meet on September 24 at the Domaine national de Saint-Cloud and online to run in solidarity during the 12th edition of the Children without Cancer race.