Innovative Therapies for Children with Cancer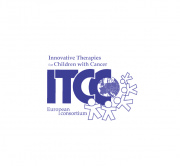 Consortium de chercheurs européen créé en 2003, ITCC rassemble 42 institutions européennes de recherche  en oncologie pédiatrique et de 9 laboratoires de recherche européens.
Le but de ITCC est de développer des thérapies innovantes et spécifiques pour le traitement des cancers pédiatriques et de l'adolescent, en coopération avec les organismes de réglementation, les entreprises pharmaceutiques, les parents et les patients.
Se regrouper au niveau européen enrichit la recherche et permet de développer
des essais cliniques plus rapidement.
En France, les membres de ITCC sont l'Institut Curie, Gustave Roussy, l'hôpital Trousseau, l'hôpital Robert Debré, ainsi que les hôpitaux de Bordeaux, Lille, Lyon, Marseille, Nancy, Nantes et Toulouse. En Europe, les centres membres de ITCC sont en Allemagne, Autriche, Belgique, Espagne, Grande-Bretagne, Italie, Pays-Bas et Suisse
Les membres du Comité Executif ITCC sont :
◦       Professeur Gilles Vassal, Président:
Directeur de la recherche clinique à Gustave Roussy (Villejuif et Président de la Société Européenne d'oncologie pédiatrique (SIOPE)
◦       Dr Bruce Morland, Birmingham Children's Hospital, UK
◦       Dr Birgit Geoerger, Gustave Roussy, Villejuif, France
◦       Pr Riccardo Riccardi, Université catholique de Rome, Rome, Italie
◦       Dr Huib Caron, Emma children's hospital, Amsterdam, Pays-Bas
◦       Pr Andrew Pearson, Cancer Research, UK
◦       Pr Pamela Kearns, University of Birmingham, UK
◦       Pr André Baruchel, hôpital Robert Debré, Paris, France
◦       Pr Michel Zwaan, Erasmus MC/Sophia children's hospital, Rotterdam, Pays-Bas
◦       Pr François Doz, Institut Curie, Paris, France
ITCC et Imagine for Margo ont signé un partenariat depuis 2012.
Chaque année, Imagine for Margo est invitée au Comité Executif de l'ITCC pour discuter des projets et du partenariat.
De nombreuses réunions de travail ont lieu durant l'année avec le Pr Vassal, Président de l'ITCC.

Société Européenne d'Oncologie Pédiatrique
Depuis 2012, l'association est membre de la SIOPE et participe à de nombreux évènements organisés en coopération avec SIOPE.
BDA meeting en 2011 et 2013
Parlement Européen : chaque année depuis 2012 pour la journée mondiale contre les cancers des enfants