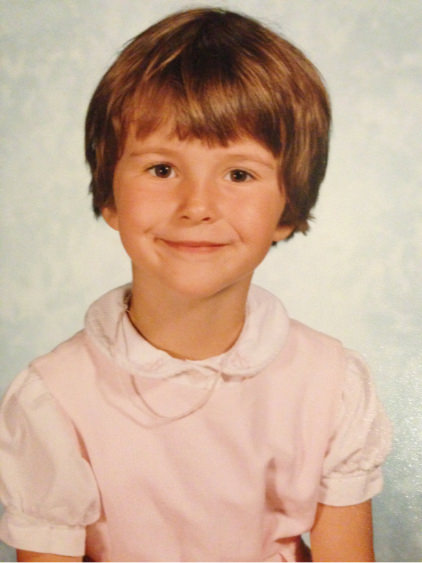 Patricia Blanc, Margaux's mother, tells her story…
Margaux was born in Johannesburg, South Africa, on the 26th of september 1995. This was an incredibly joyous time for us, she was our first child, our first daughter . I remember Descilia, her South African nanny, singing traditional zulu songs to her and carrying her on her back wrapped in a large 'pareo' a cloth sling. Margaux stayed in touch with Descilia for many years. A few months after Margaux was born we returned to France, and Margaux got to know her family especially her cousins. We have wonderful memories of fun filled week-ends in Normandy at Margaux's grandparents house. Floriane, our second daughter was born on Halloween in 1998, bringing even more happiness. Our daughters grew up, enjoying a happy and carefree childhood. Avril 2000, we moved to New York and lived there for about six years. Margaux became fluent in both French and English, she had lots of hobbies and interests and especially loved being surrounded by her friends.
She played piano and electric guitar (yes in 8th grade) she took gymnastics and dance classes and learned to scuba dive. We will never forget our time in New York. The memories of those years will remain in our hearts forever, especially the memories of the friends Margaux made in the French American School of New York (FASNY). She had photos of all her friends on her desk and never forgot their birthdays, friendship was very important to Margaux and she was a very loyal friend. Summer 2006 We returned to France in 2006 and leaving these close friends behind was heartrending. Margaux found it difficult to adjust initially, especially as she had to start secondary school without knowing anyone. Luckily, Institut Notre Dame, in Saint Germain en Laye, had a bi-lingual section and this helped Margaux maintain her links with New York. Her first year in secondary school marked a new chapter in Margaux's life, new friends, new interests such as horseriding, modern dance and cheerleading. Margaux searched the web and discovered a cheerleading group, the Pom Pom girls, based at the American Church in Paris. I used to drive her to practice every Saturday morning much to her delight.
September 2008 Margaux had just turned thirteen, she was in 4eme, (year 8) and all was well. She had settled back in France, was performing well at school and was surrounded by close friends. She made regular trips back to New York to see her friends there and had a great time at Chinqueka summer camp. Our 'teenager' was vivacious and outgoing.
On 10th february 2009, Margaux threw up and had a blinding headache. That day she saw two doctors who diagnosed a gastro but she didn't improve. On Saturday 14th of february, Margaux was extremely ill, we rang an ambulance and were taken to hospital. Three doctors examined her but couldn't find anything in particular wrong. At my insistance Margaux was sent for a scan, while waiting for her to return I had a very bad feeling. A few minutes later, we received the results of the scan, 'Madam we know why your daughter is having such bad headaches, she has a brain tumour, the ambulance is waiting , you must go immediately to Necker Hospital for further tests'. That day our lives were turned upside down and have never been the same again. It was the beginning of a hard battle which lasted 16 months.
A battle which lasted 16 months
« Hello, my name is Margaux, I am 14. One day, without any warning, my life has switched. I have been diagnosed an aggressive brain tumor which is called a glioblastoma (Malignant GlioNeuronal Tumor). I have now to fight every day against this thing in my head ». This is what Margaux wrote in her call for fundraising to help research in August 2009.

We learn, on the 14th of february, after 5 days of headaches and vomiting, the terrible news. The diagnosis given by her doctor at Gustave Roussy in Villejuif is already very bleak : glioblastoma, grade 4, inoperable, diffuse, metastases in the spine and malignant cells in the cerebrospinal fluid. Doctors say that they will try 2 sessions of chimiotherapy and after we will see… After 4 sessions of chimiotherapy, there are no more malignant cells in the cerebrospinal fluid and the tumor has slightly decreased. It is operable. Hope is back. June 18th, 2009 The operation went well. About 70% of the tumor was removed and we hope that radiotherapy will remove the rest. Against all expectations, on june 29th, only 10 days after this important operation at Necker, I take Margaux and 5 of her friends for 2 weeks of happy holidays at Barcarès, near by Perpignan. Magic moments that she fully enjoyed before she starts 6 weeks of daily radiotherapy. Margaux looses her hair as well as sensitivity in her whole left side. September 2009 Margaux is back to school ! She is so happy to see again her friends and teachers. No more chimiotherapy, a short break before the MRI mid-october. The MRI is good, doctors talk about remission and about a maintenance treatment. It is relieved but very careful, that we go to New York to enjoy holidays for Halloween, to see our friends from FASNY, to attend the New York marathon run by her daddy. December 25th, 2009 Christmas dinner at Barcarès. And this terrible phrase « Daddy, I see double »… We immediately go to the hospital in Perpignan and, in connection with Gustave Roussy, they give Margaux big quantities of cortisone. Nevertheless, we go skying at Font Romeu and spend the New Year's Eve at the squirrel chalet with our friends. Margaux wants too much to go there and we want her to enjoy every possible moment. January 4th, 2010 Back to Paris : she has a relapse. The disease is back, even more aggressive. A new operation at Necker and a new treatment is prescribed. All her left side is now paralysed and she has to be in a wheelchair. Nevertheless she keeps a tremendous will to fight, she wants to carry on school to pass her « brevet » exam, she gets a 16/20 at the road safety test, she attends every appointment with the physiotherapist, ergotherapist, kinesiologist, through which she can stand up again and even walk a little bit by herself. She keeps on smiling, having sense of humor, and is always paying attention to others, her family, friends, relatives. The huge moment of generosity and solidarity raised by her fund collection to help Research (largest private collection on the internet in France) and all the messages that she receives, and in particular the Facebook Group « running for Margo » drive her to continue her fight and are a huge support. We try everything : homeopathy, phytotherapy, magnetism…) and we contact the most famous doctors in many countries (United States, Belgium, Germany, China, Israël…) trying to find innovating treatments or clinical tests. April, 2010 Margaux is getting more and more tired. Our family meeting in Antibes, then Club Med in Palmyre,  are her last holidays. May 7th, 2010 Back in Gustave Roussy where we are told that nothing else can be done to stop the disease. We go back home with Margaux and organise hospitalization at home. Slowly Margaux will fall asleep, surrounded by her close family. We will accompany her with all our love until her last breath at Poissy hospital, on June 7th 2010.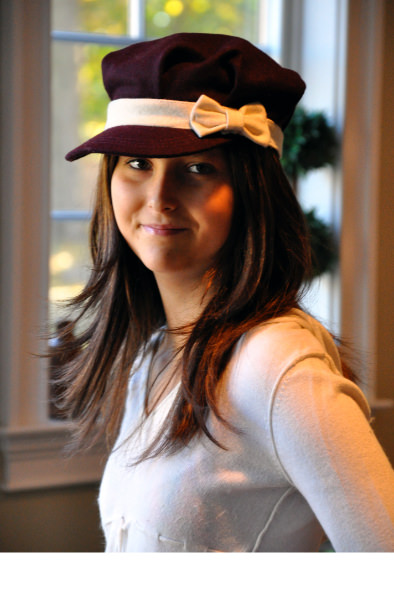 The largest private collection on the internet in France
During her illness, Margaux launched an online collection to help her cancer research, which raised € 103,335. She wrote the following message on her collection page:
"Hello, my name is Margaux, I am 14. One day, without any warning, my life has switched.

I have been diagnosed an aggressive brain tumor which is called a Glioma (Malignant GlioNeuronal Tumor). I have now to fight every day against this thing in my head. I am lucky to have close to me a wonderful family as well as an extended family of friends and relatives who help me a lot in this difficult fight. I am also lucky to be followed by the Pediatric Team of the Institute of Oncology Gustave Roussy. But my disease is hard to cure and it is important that we can find quickly a treatment. The team of Doctor Jacques Grill, one of my doctors, is currently working on researches on this type of tumor. We need your donation to help them in those researches. On my behalf and on behalf of all the other children affected by this disease, we thank you in advance for your generosity."
In June 2010, after the departure of Margaux, her sister Floriane continues her collection: "Hello, my name is Floriane, I am 11. When I learned thay my sister had a brain tumor, I thought that whatever happens, she will remain strong, nice and courageous. Now that she has gone, and that her tumor has been removed, it is as if Margaux was here, asleep. I have been told, many times, that she was an angel and that she would make us some signs. And that is true. The night she has gone, I was outside, there was a star shining just above the house. The more I was thinking that it was Margaux, the more she was here. She was my sister and will remain forever. I think it is important to make a donation to help research, because she has been fighting, keeping smiling, enjoying life and the good times, while she was physically diminished, even in a wheelchair. When I saw her after she left us, she had a smile on her face, and for me this was meaning that she had gone to heaven, peaceful, beautiful, free, with her left side back that the disease had taken away. This meant also that she would keep an eye on us, on me, who will honor her until the end of my days. Margaux, the more donations we will collect, the more we will be able to say that, even if you have gone, there are many people who will keep on fighting against the disease and that children will be cured thanks to you and to the love that you spread. I love you and I am proud to have had a sister so strong and courageous like you. You are the best! Floriane"
Thanks to your donations, a first cheque of 55,000 euros remitted end of october 2009 has allowed helping to finalize the classification of high-grade gliomas, realised by the pediatric research team of Doctor Jacques Grill at Gustave Roussy. A presentation was made during the American Society of Clinical Oncology, in Chicago, in June 2010. Additional funds have allowed Doctor Jacques Grill to continue his analyses on samples of tumors and thus, contributing to the discovery of a major advance in the treatment of Gliomas. Last donation from Margaux for Research will have been her tumor.
The message that Margo left
GO, FIGHT, WIN! Margo left a message found in a book by his parents after her death : « Dear Reader, i just want to say : Go. Fight. Win! Go, take the opportunities that come to you, and do not miss a chance to follow your dreams. Fight, against all the hard moments that will eventually come to you. Win, accomplish the things you want, follow your dreams and always try to be a better person. »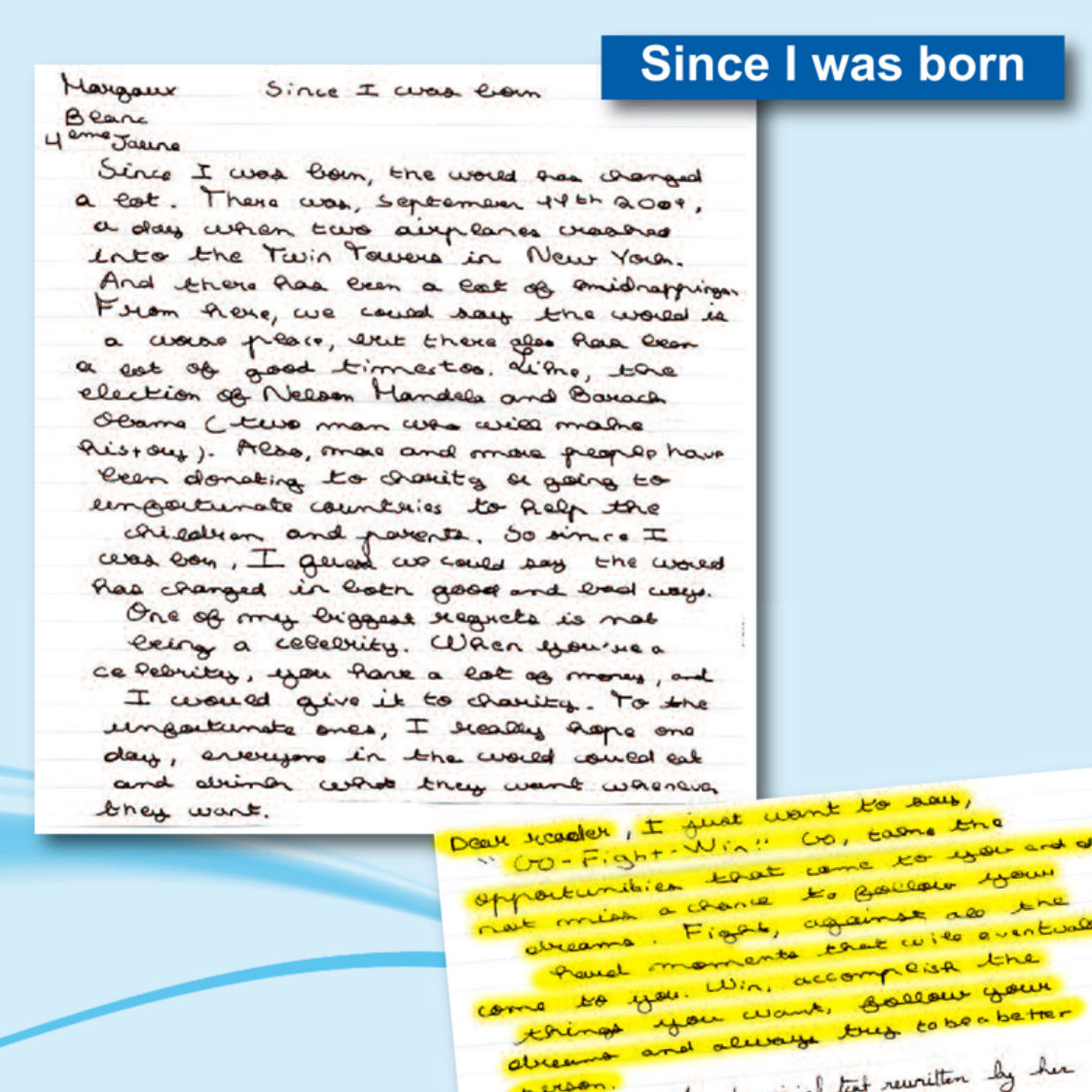 Imagine for Margo wants to share this life affirming message and continue her fight, so that one day the dream to cure all children with cancer will become a reality.