At our FAST conference at the Senate last February 10th, we reiterated the importance of reconsidering the minimum age of 18 for children to participate in adult clinical trials, preventing some adolescents from benefiting from these trials, even though from a scientific and regulatory perspective there is no valid reason to deny them access to these tests.
Unite2Cure, a group of parents 'and patients' associations in Europe, which we co-founded, explains in this video how this "artificial barrier" of the minimum age is a huge loss of opportunity for teenagers who are sick
https://youtu.be/c9Q1qXVDzLo
However the reglementary lines are slowly beginning to move: the Bristol-Myers Squibb laboratory has recently decided, on an international level, to lower the age of inclusion in its clinical trials to 12 years. Six studies are underway in the United States, Canada and Australia, and a study will start soon in France.
However, this must become the norm for all industrials. We call on all pharmaceutical companies to do the same, to give adolescents a greater chance of being cured by giving them access to innovative treatments.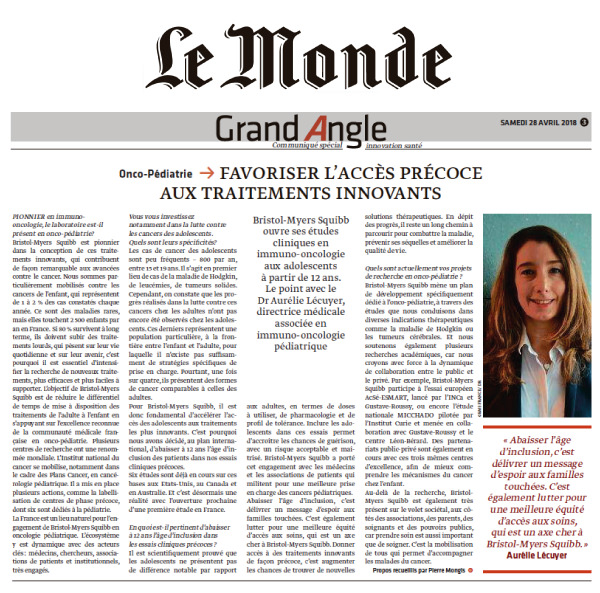 Onco-Paediatrics – PROMOTING EARLY ACCESS TO INNOVATIVE TREATMENTS
PIONEER in immuno-oncology, is the laboratory present in onco-pediatrics?
Bristol-Myers Squibb is a pioneer in the design of these innovative treatments, which make a significant and important contribution to advances in cancer treatment. We are particularly committed to working to cure childhood cancers, which account for 1 to 2% of the cases observed each year. These are rare diseases, but they affect 2500 children per year in France. If 80% survive in the long term, they have to undergo heavy treatments, which affect their daily lives and their future, which is why it is essential to intensify the search for new treatments that are more effective and easier to handle. The aim of Bristol-Myers Squibb is to reduce the difference in the time available for adult-to-child treatment by relying on the established excellence of the French medical community in pediatric oncology. Several research centers are world renowned. The National Cancer Institute is involved, particularly in the framework of the Cancer Plans, in pediatric oncology. It has implemented several initiatives, such as the labeling of early-stage centers, six of which are dedicated to pediatrics. France is a natural place for Bristol-Myers Squibb's commitment to pediatric oncology. The set up there is dynamic with key players: doctors, researchers, patient and institutional associations all highly committed towards a common goal.
You invest especially in the fight against adolescent cancers.
What are sets them apart? 
Teenage cancer cases are not common – 800 per year, between 15 and 19 years old. It is primarily cases of Hodgkin's disease, leukemia and solid tumors. However,  we have observed that the progress that has been made in controlling these cancers in adults has not yet been observed in adolescents. The latter represent a particular population at the child-adult boundary for which there are not enough specific management strategies. However, in one in four cases, they have cancer forms that are comparable to those of adults. For Bristol-Myers Squibb, it is therefore essential to accelerate teenagers' access to the most innovative treatments. That's why we decided, at the international level, to lower to 12 years the age of inclusion of patients in our early clinical trials. Six studies are already underway on this basis in the United States, Canada and Australia. And it is now been introduced to France with the opening of a first study.
Why is it appropriate to lower the age of inclusion in early clinical trials to 12 years?
It is scientifically proven that adolescents have no noticeable difference from adults in terms of doses to be used, pharmacology and tolerance profile. Including adolescents in these trials increases the chances of recovery, with acceptable and controlled risk. Bristol-Myers Squibb has made this commitment with physicians and patient organisations advocating better management of pediatric cancers. Lowering the age of inclusion is delivering a message of hope to affected families. It is also a fight for better equity of access to care, which is an important focus at Bristol-Myers Squibb. Giving access to innovative treatments early means increasing the chances of finding new therapeutic solutions. Despite progress, there is still a long way to go to fight the disease, prevent its recurrence and improve the quality of life.
What are your current research projects in pediatric oncology?
Bristol-Myers Squibb has a development plan specifically dedicated to pediatric oncology, through studies we conduct in various therapeutic indications such as Hodgkin's disease or brain tumors. And we also support several academic research projects, because we strongly believe in the dynamics of collaboration between the public and the private sector. For example, Bristol-Myers Squibb participates in the European test AcSé-ESMART, launched by the INCa and Gustave-Roussy, or the national study MICCHADO led by the Institut Curie and conducted in collaboration with Gustave-Roussy and the Center Léon-Bérard. Public-private partnerships are also underway with these same three centers of excellence, to better understand the mechanisms of childhood cancer. In addition to research, Bristol-Myers Squibb is also very active on the societal side, alongside associations, parents, carers and public authorities, because being careful is as important as caring. It is the commitment of all groups in society that allows us to accompany cancer patients in their combat.
"Lowering the age of inclusion is delivering a message of hope to affected families. It is also a fight for better equity of access to care, which is an important focus at Bristol-Myers Squibb. »Aurélie Lécuyer
Interviewed by Pierre Mongis.