On January 28th took place our 4th seminar « towards a specific research on pediatric cancers ». All the actors around the cause of pediatric cancer were attending : doctors, searchers, institutions, politics, families.
Here is the synthesis of the 1st part :
TO ACCELERATE INNOVATION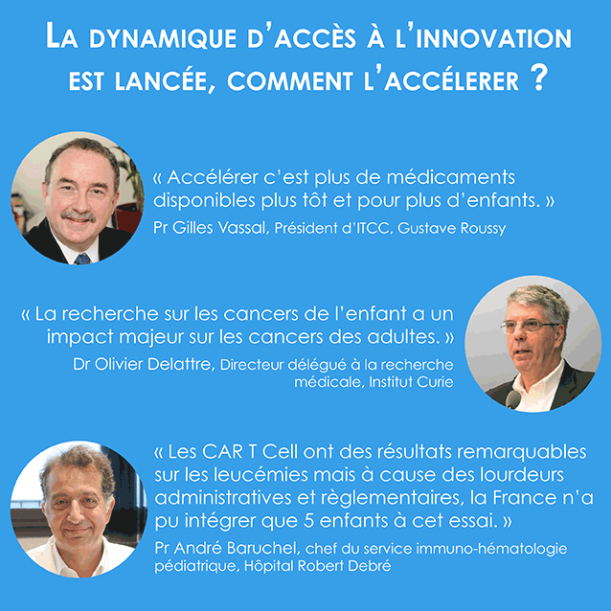 New research programs have started to fight against pediatric cancers. Let's continue to mobilize to accelerate access to medicines.
Professor Gilles Vassal, President of ITCC, and Clinical Research Director at Gustave Roussy Institute has presented the new research programs that will upset precision medicine ; 3 major programs will allow high-throughput sequencing of relapsing childhood tumors, regardless of the type of tumor (MAPPYACTS open end of 2015) and as soon as high-risk tumors are diagnosed (MICCHADO planned for mid-2017). A better understanding of the tumor abnormalities will allow to better target the treatments and propose innovating medicines to relapsing children thanks to AcSé-ESMART, unique in the world in the childhood cancers (open in August 2016).
« But to accelerate Research, we need more investment, more medicines, medicines available sooner and for more children. To move on, we need to work with the industries that work on medicines, in a non-competitive logic ».
Doctor Olivier Delattre, in charge of medical research at Curie Institute, gave us some examples showing that « research on pediatric cancers has a major effect on cancers of adults ».
Moreover, new programs will constitute a source of major scientific information for basic research. This will allow, for example, to better understand why a child has well responded to a treatment or on contrary has resisted.
« Do not forget that today, when we make a molecular portrait of a child tumor, in 60% of cases, we don't find any abnormality to be in a position to propose a treatment. In 40% of cases there are alterations but it doesn't mean that the medicine will be efficient. We have to increase the access to medicines for those 40% of patients and we have to find more targets for the first 60% » said Professor Gilles Vassal.
Professor André Baruchel, chief of the Pediatric immunohematology department at Robert Debré hospital, has presented the functioning of CAR T cells and the remarkable results on leukemia : in April 2012, a young girl has been treated and she is still alive after 5 years while she had only 3 months to live.
Another example of a relapsing child, who was treated at Robert Debré hospital 7 months ago and who is in full remission and is back to school. But the question is to be able to control the relapse and come to a complete healing.
Research is in progress. As the treatment is specific to every patient, this one is very costly.
Moreover, administrative and regulation burdens, in France and in Europe have almost blocked the access to a recent trial for french patients. It took 2,5 months to Norway to get authorizations while it took 7 months to France where only 5 children have been integrated to a very promising trial from Novartis.
Even if the ESMART trial has been launched very quickly, different examples of administrative burdens have been raised. Therefore, Roche laboratory in France (subsidiary that recruites the more in clinical trials in Europe) has noticed over the past months, that burdens are increasing and that France is losing competitiveness and that has to change in order to maintain research in France.
We also see new countries emerging like South Corea or Australia where we can open new trials in 2 weeks time. The French Biotech Cellectis that develops the Car T Cell has chosen to settle in the UK for regulations reasons mainly. The drawing of Commitees of Wellfare of Persons is a recent measure that worries the professionnals because trials will be evaluated by non-specialists in pediatric oncology.
According to Professor Norbert Ifrah, the cautiousness of the Authorities to shorten the deadlines to get authorizations would be due, among other causes, to different sanitary scandals that occured in France. « France has over-interpreted the precautionary principle ».
At the end of this 1st part, the priorities of actions are :
– To work with national regulations and ministerial authorities to reduce and respect administrative deadlines (National Agency of Safety of the Medicine, INCa, Ministry…)
– To propose to review the drawing system for Commitees of Wellfare of Persons