Ahead of the World Childhood Cancer Day, on February 12 during our FAST e-colloquium, we announced the signing of a charter of commitment on pediatric cancers, signed by all the key players in the health sector. The objective is to break down the wall of therapeutic impasse in childhood and adolescent cancers.
TACKLING THE LEADING CAUSE OF DEATH BY DISEASE IN CHILDREN AND TEENAGERS
In 2022, cancer remains the leading cause of death by disease in children over 1 year old in France.
Every year, 35,000 children and teenagers are diagnosed with cancer in Europe. For 20% of them, there is only one and only hope: progress in research. Today, the considerable progress made against adult cancer hides a therapeutic deadlock in the treatment of childhood and teenager cancers.
With more than 100 different types of cancer, pediatric cancers are considered rare cancers and are still too often forgotten by public and industrial funding.
AN UNPRECEDENTED CHARTER TO BREAK THE WALL OF THE THERAPEUTIC DEADLOCK
Recent announcements making pediatric cancers a priority in Europe and France are opportunities not to be missed to put an end to this injustice.
In order to quickly move from words to actions, we have decided to act collectively by drawing up a charter of commitment to go even further in our fight against pediatric cancers.
This charter, signed on February 12, 2022 in Paris by 12 strategic health players, 7 associations and many key players in public policies against cancer, aims at healing more and healing better by acting mainly on three axes:
Accelerate the development of new treatments
Facilitate data sharing and analysis for dedicated research.
Improve long-term patient follow-up.
The signature of the charter remains open to other actors who would like to provide their support.
Discover the first signatories below: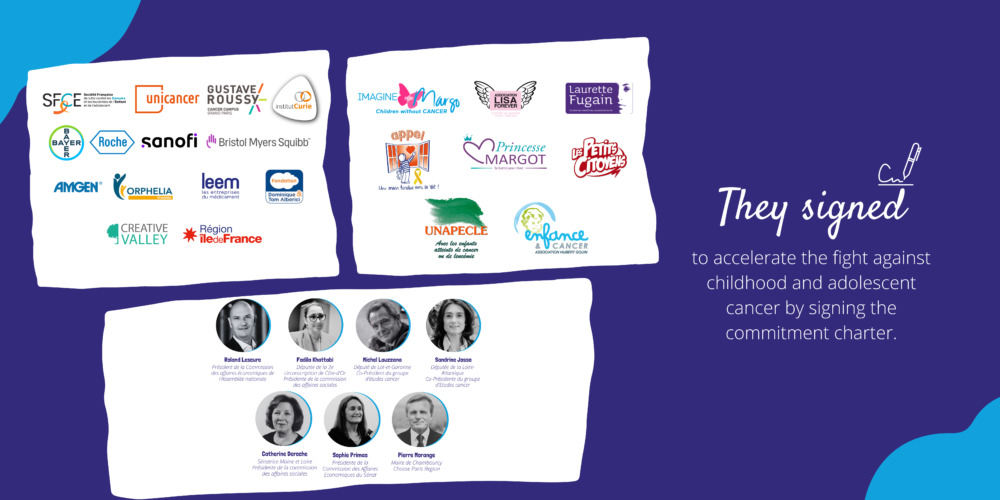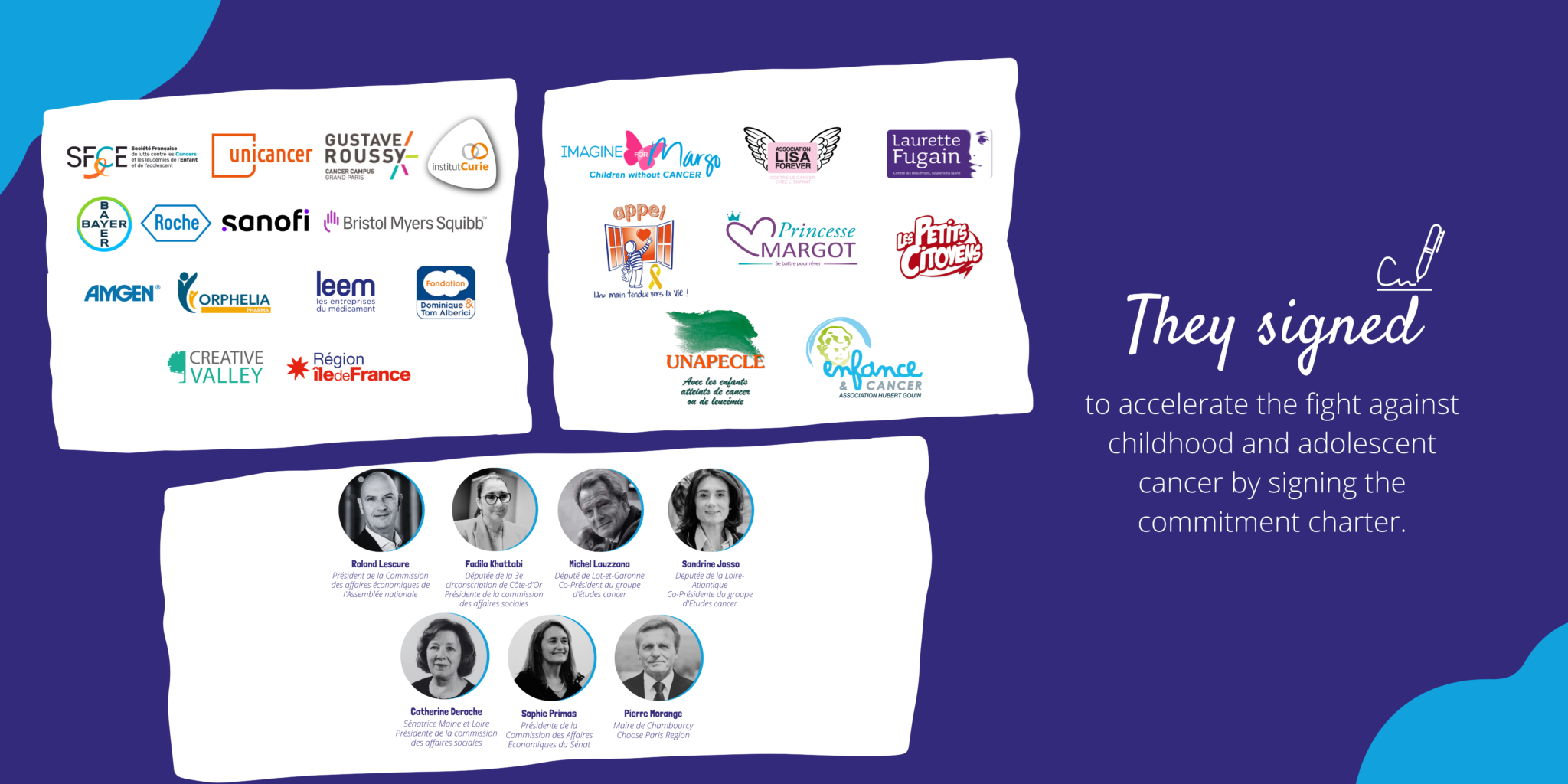 ACT FROM 2022 !
Patricia Blanc, Founding President of Imagine for Margo: "European and French news on cancer and in particular on pediatric cancers are great opportunities that the childhood cancer community should not miss. Indeed, for 10 years, Imagine for Margo has been a stakeholder in collectives and working groups which together have identified actions to be undertaken and solutions to be implemented. Today, thanks to the signing of this charter, we will, together, break the glass ceiling and take a big step towards a world with children without cancer. »
The implementation of the commitments of the charter will be done from 2022, by proposing to the signatories to build and define together the concrete actions to be carried out on the development of new treatments, the sharing and analysis of data as well as the improvement of the long-term follow-up.