Every year since 2014, we have run a major national childhood cancer awareness campaign in February, on the occasion of International Childhood Cancer Day on February 15.
campaign 2023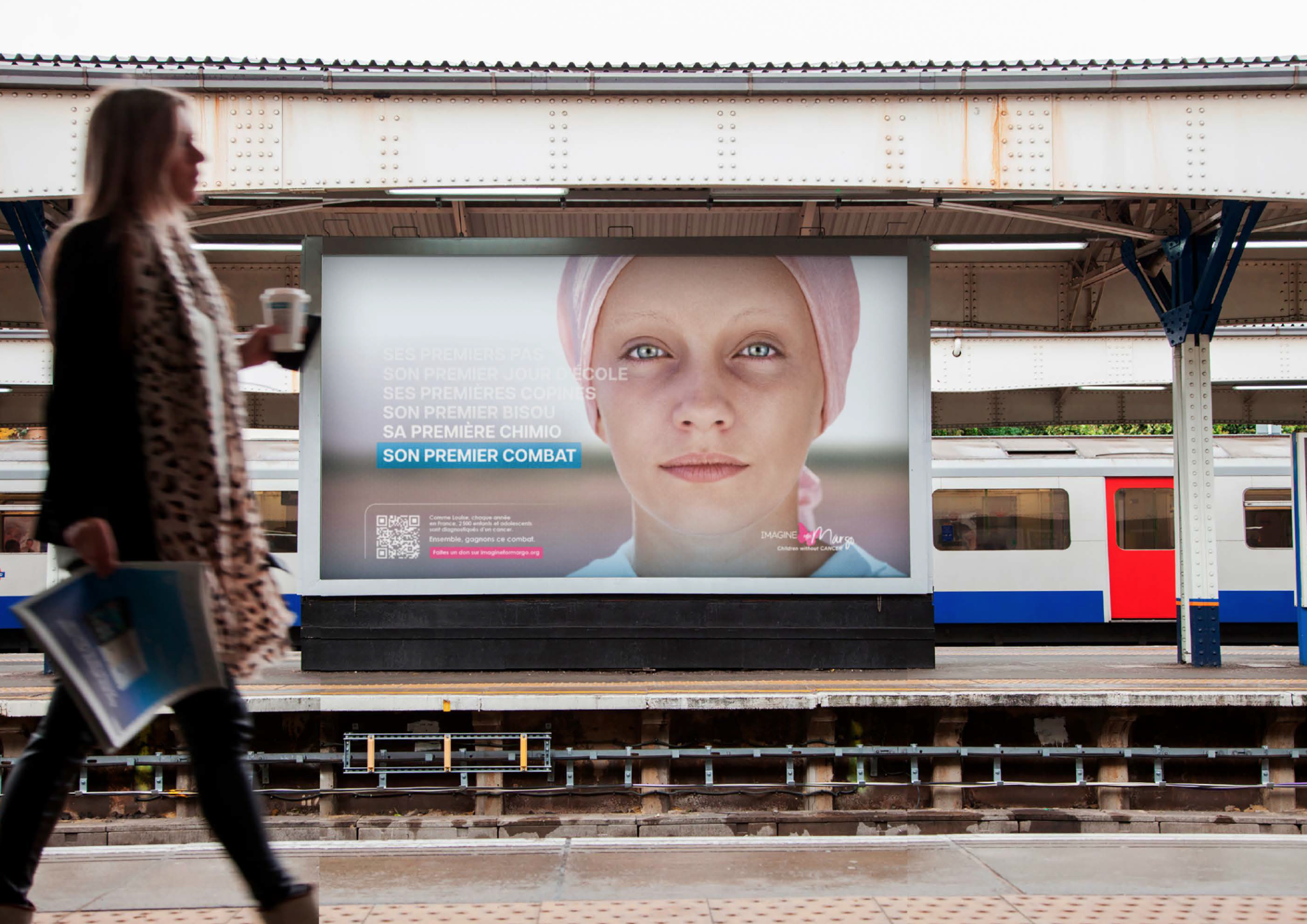 In February 2023, Imagine for Margo is launching a new awareness campaign against childhood cancer.
Indeed, thanks to the immense generosity of the media who offer us free space and the faithful support of our Mindshare partners, Hill+Knowlton who help us prepare it, this campaign is broadcast on television, in movie theaters, in the press, on the internet. and everywhere in France via billboards.
This campaign is the result of a creative collaboration between the communication agency Advitam and Imagine for Margo; this new awareness campaign, entitled "The Evolution", takes the opposite view of the expected drama, moves away from the classic codes of the charitable world. and offers an emotional and impactful campaign.
The message is simple: "Disease can happen to anyone, you have to fight to beat it. Together we can win this fight through research". The proposed film depicts the various stages in the life of a child, punctuated by a myriad of daily, light and beautiful moments before emphasizing the fight against cancer.
A huge THANK YOU to the many television channels and digital networks that support us, some for the first time and others by renewing their faithful support for the cause of childhood cancer.
2022 CAMPAIGN
In 2022, the generosity of the media enabled us to raise the awareness of nearly 30 million French people about the cause of childhood cancer. Our 9th national campaign, entirely free of charge, was valued at 1,000,000 euros.
TELEVISION AND INTERNET
On television and on the internet, it is the very moving testimony of Maurine, alongside Mika (singer), which had been broadcast.
Maurine was 10-year old, a very happy little girl's life with dreams for her future. She fought like a little warrior against cancer. We carry her in our hearts forever.
TELEVISION: more than 1,100 TV spots were broadcast in February 2022
TF1, France 2, France 5, BFM, CNews, Infosport +, and more…
INTERNET: many websites throughout the month of February (+5.9 million views)
Vogue, VanityFair, MagicMaman, Le Figaro, Eurosport, Konbini, BFM, ParisMatch, RMC, Europe1…
PRINT
The 2022 campaign featured one of photographer Peter Lindbergh's magnificent artworks created during our trip to the Camargue in 2015, with Mika.
The message of little warrior Janotte is a call to action to help research: "Let's make war on cancer! »
A huge THANK YOU to all the magazines that allow us to raise awareness among the French thanks to more than 20 insertions in magazines of choice.
CNews, L'Express, L'Obs, LeMonde, LePointParisMatch, Capital off series, Challenges, Closer, Maxi, Current Woman, Tele Loisirs, National Geographic…
THANK YOU
A huge THANK YOU to all the media for this magnificent 2022 campaign entirely free of charge. THANK YOU to the agencies Mindshare and Hill+Knowlton who helped us prepare this awareness campaign on a voluntary basis.