The therapeutical trial AcSé-ESMART, unique in the world in the pediatric field and that we have co-funded giving 1.832.000€, gives access to 10 personalized and innovative treatments to children in relapse or with therapeutical failure. The French newspaper Le Figaro has summarized this very promising approach in the below article published on the 4th of June of 2019.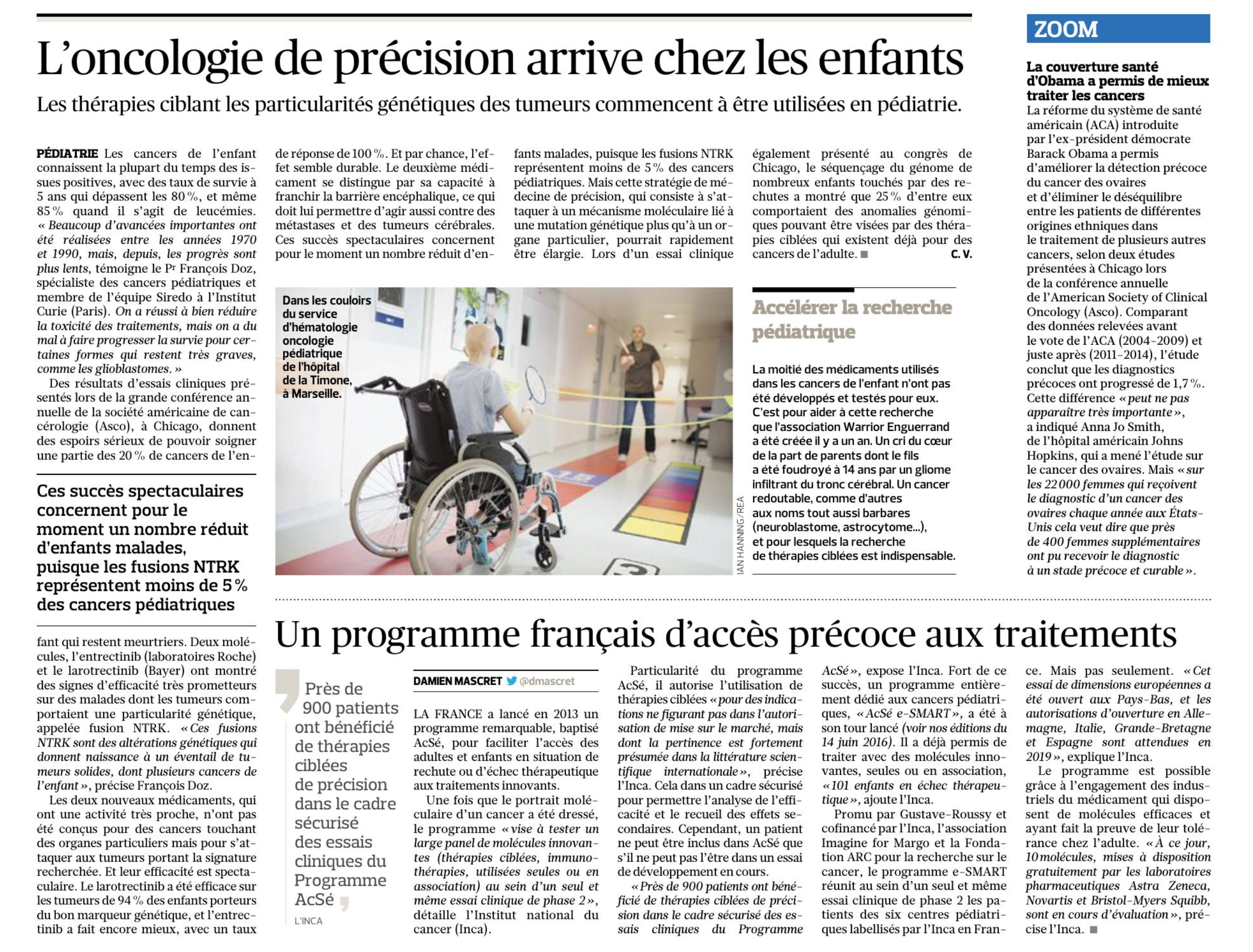 The french program of early access to treatment
By Damien Mascret
In 2013, France launched a remarkable program, labeled AcSé, to facilitate the access of adults and children in relapse or therapeutic rejection of innovative medication.
Once the molecular portrait of a cancer has been identified, the program "aims at testing a large panel of innovating molecules (targeted therapies, immunotherapies, used alone or together) in a single phase 2 clinical test" specifies the National Institute of Cancer (INCA.)
The program is made possible thanks to the commitment of the pharmaceutical industry that has access to effective molecules that have demonstrated their tolerance levels in adults.
The particularity of the AcSé program, is that it authorizes the use of targeted therapies "for therapeutic indications that are not approved for use, but their relevance is strongly presumed in the international scientific literature" specifies INCA.  This in a secured framework that allows for efficient analysis and the gathering of secondary effects.  However, a patient can only be in AcSé if he or she is not in an ongoing development test.
"Almost 900 patients have benefited from these targeted precision therapies in the secured framework of the AcSé program clinical tests," specifies INCA.  Following this success, a whole program dedicated to paediatric cancers "AcSé e-SMART" was launched (see our June 14, 2016 publications).  As indicated by INCA, it has already allowed for the treatment with innovating molecules, alone or in association, of "101 children in therapeutic failure."
Endorsed by Gustave Roussy and co-financed by INCA, the Imagine for Margo Association and the ARC Foundation for cancer research, the e-SMART program unites into a single phase 2 clinical test, patients from six paediatric centres carrying the INCA certification in France.  But not only.  "This European-dimension test has been opened in The Netherlands, with the authorizations for use in Germany, Italy, The United Kingdom and Spain expected in 2019," specifies INCA.
The program is made possible thanks to the involvement of the pharmaceutical industry that has effective molecules that have shown positive results in adults.  "To this day, 10 molecules, gracefully donated by the pharmaceutical companies Astra Zeneca, Novartis and Bristol-Myers Squibb, are currently under evaluation" reveals INCA.
Le Figaro, June 4, 2019