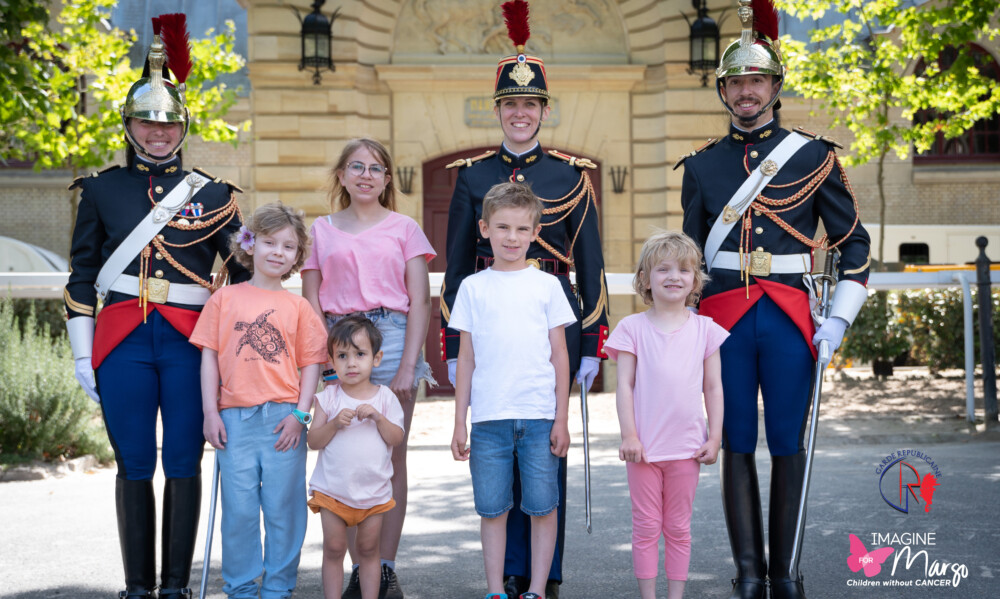 Just a year ago, the French Republican Guard became our big-hearted godmother. As promised by Colonel Cortès when signing this unprecedented partnership, the Republican Guards have made "this partnership a great human and horseback adventure – with three gaits: walking, trotting and galloping".
CHILDHOOD CANCER, A FIGHT FOR LIFE TO GET INTO A GALOP
Cancer is the leading cause of death by disease in children and teenagers in France and Europe. Every year, 2,500 (35,000 in Europe) little warriors are affected by cancer. For 20% of them, there is only one hope, progress in research.
This is why since 2011, Imagine for Margo has made it its priority.
Touched by our history and our fight against this scourge, the French Republican Guard is committed alongside Imagine for Margo with one and only objective: to put the fight against childhood cancer at a gallop.
A YEAR OF FIGHT WITH THE FRENCH REPUBLICAN GUARD AGAINST CHILDHOOD CANCER
During this first year of partnership, the French Republican Guard has chosen to take action on all fronts. Indeed, with the association, it organized three visits to the Gustave Roussy hospital, the Trousseau hospital and the Institut Curie. On the program of these meetings: equestrian demonstrations, gifts, workshops, a few musical notes during beautiful concerts and interpretations in the rooms and above all many smiles for the little warriors who, every day, fight against the disease.
In addition, our big-hearted godmother has opened her doors many times to the families of the association. Indeed, throughout the year, the French Republican Guard organizes several events around their activities. Musical performances, special formations, equestrian demonstrations, egg hunts on the occasion of Easter… during these moments, the children and their parents were able to enjoy privileged moments with the guards.
Our sponsor was also particularly mobilized on February 15, the International Childhood Cancer Day, when the Rallye du Cœur  had the opportunity to accompany the children on board superb vintage vehicles.
Finally, the Republican Guard took part in and kicked off the 11th edition of "Children without Cancer", the largest solidarity race in Europe against childhood cancer. In front of more than 5,800 runners, the horses and the quintet of our godmother dictated the rhythm of the solidarity strides of the participants.
In 365 days, this prestigious institution, which is committed for two years to our association, has raised awareness, mobilized and offered many smiles to children and teenagers with cancer. For their commitment by our side, we would like to pay tribute to them and to thank all the people who bring this wonderful partnership to life.
Do you also want to advance the cause of childhood cancer? Find out how to help Imagine for Margo here. You can also donate directly here.