The management of cancer in children is based on two axes: on the one hand conventional treatments and on the other hand innovative treatments based on precision medicine. Imagine for Margo has been mobilizing for more than 10 years to improve access to this care at the cutting edge of scientific progress.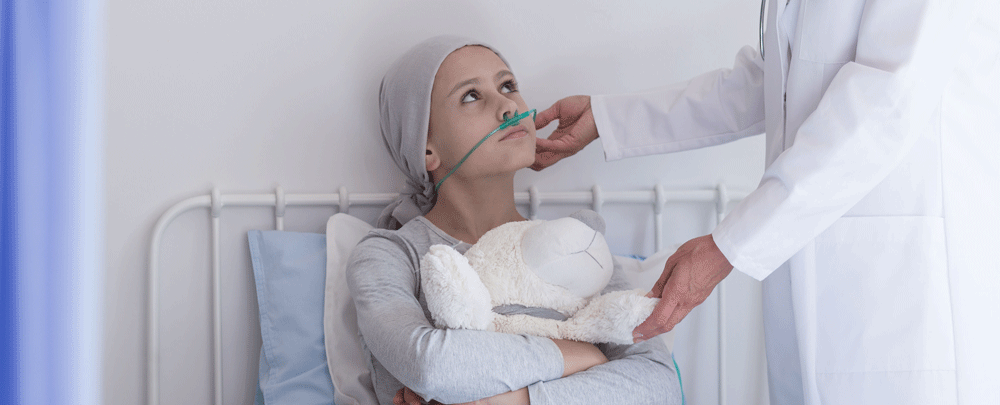 PEDIATRIC CANCER IN A NUTSHELL
Every year in France, 2,500 children and adolescents are diagnosed with cancer. These are mainly leukemias (29%) or tumors of the central nervous system (25%). In 1 in 10 cases of childhood cancer, it is lymphoma. Pediatric cancer is the leading cause of death by disease in children over the age of one in France and in Europe.
TRADITIONAL TREATMENTS FOR PEDIATRIC CANCER
The treatment of cancer in children generally involves four types of care:
Surgery: surgical interventions in pediatric oncology can have different objectives, including removal of the tumour, lymph nodes and/or metastases, confirmation of the diagnosis or relief of one of the symptoms of the disease.
Radiotherapy: this consists, using ionizing rays, of destroying cancerous cells as precisely as possible, so as not to touch or damage healthy cells and nearby organs.
Drug treatments: these can take the form of chemotherapy, immunotherapy or targeted therapy. Chemotherapy aims at destroying cancer cells or cells that are multiplying. Immunotherapy involves boosting the immune system to learn how to fight cancer cells. Targeted therapy attacks a specific abnormality of a cancer cell in order to prevent its growth and multiplication.
Hematopoietic stem cell transplantation or autograft: this treatment is considered to treat leukemia, lymphoma or myeloma. It is a very heavy treatment, implemented in children with a high risk of recurrence or relapse.
These four types of pediatric cancer treatment are implemented alone or in combination, successively or simultaneously, depending on the specific case of the child.
ACCELERATE RESEARCH TO CURE ALL CHILDREN AND TEENAGERS WITH CANCER
Since 2011, Imagine for Margo has mobilized, raised awareness and raised funds to accelerate research against childhood cancer. Its objective is to heal more and better the little warriors who bravely fight against this scourge.
THE DEVELOPMENT OF PRECISION MEDICINE BY IMAGINE FOR MARGO
For 10 years, Imagine for Margo has been working against childhood cancer, in particular by doing everything possible to speed up access to precision medicine for young patients.
"Precision medicine is a term that has replaced personalized medicine. It is used to describe this approach aimed at adapting the therapeutic strategy according to the patient. In the case of cancers, and more particularly those in children and teenagers, precision medicine will generally intervene in the event of failure of so-called "standard" treatments: chemotherapy, surgery or radiotherapy. Indeed, in these cases, new therapeutic approaches will have to be found. For this, we will analyze and interpret more precisely the molecular profile present in the patient's tumor in order to find the alterations that are responsible for the disease. From there, we propose to adapt the treatment in order to target the various alterations with the aim of increasing the chances of recovery for children and adolescents". Birgit Geoeger by Gustave Roussy
Precision medicine consists in providing, for a given patient, a personalized therapeutic strategy specific to the characteristics of his disease. The objective is to target the molecular abnormalities of the tumor in order to destroy it. To develop and provide access to this type of medicine, Imagine for Margo co-financed the Mappyact program, taken over in 2021 by the State as part of the France Medicine Genomics program. Since then, relapsed children, as well as from diagnosis, can benefit from a molecular portrait of their tumor and thus better target the most appropriate treatment.
FIGHT KIDS CANCER: AN INNOVATION "BOOSTER" FOR CHILDREN
In order to move faster towards a world with children without cancer and to develop new solutions for little warriors affected by the disease, Imagine for Margo has joined forces with two other European associations (Belgian and Luxembourg) to launch Fight Kids Cancer, a European call for projects. The objective: to combine the funds collected during the Children without Cancer races organized the same weekend in each member country in order to finance the most promising research programs.
The projects that are selected each year meet three criteria: the impact of the treatment studied on the patient, the capacity for innovation, and the scientific excellence of the researchers working on this project.
Help us with your donations to support Imagine for Margo's research to accelerate precision medicine.