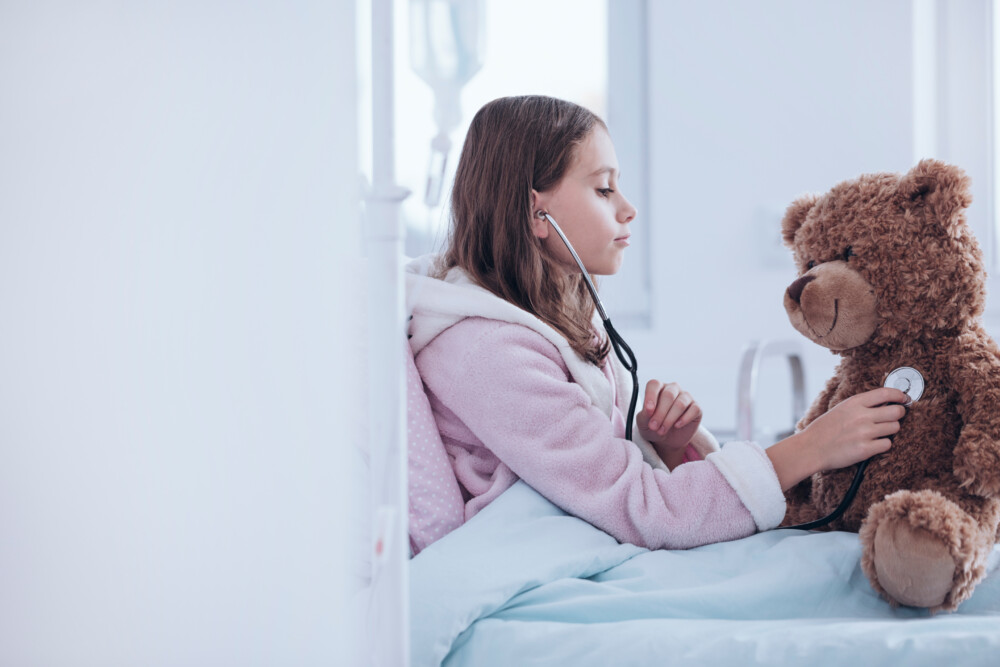 BIOMEDE is the most ambitious clinical trial ever proposed for children with a Diffuse Intrinsic pontine glioma. This malignant brain tumor is highly aggressive and is located in a vital area of the brainstem called the pons.
This cerebral region controls vital functions such as balance, breathing, heart rate, blood pressure, and is also traversed by nerves controlling vision, hearing, speech, swallowing, and movement. Due to its location and the highly invasive potential of this tumor, surgical treatment is often impossible.
In response to the grim prognosis of this disease, Imagine for Margo decided to support Dr. Jacques Grill and his team based at the Gustave Roussy Institute for the "BIOMEDE" trial (€1,605,000 since 2014), which has changed clinical practices for this cancer.
A conversation with Dr. Jacques Grill, pediatric oncologist at Gustave Roussy and director of INSERM Unit 981, on this clinical trial that has, among other achievements, for the first time in the world, saved children from this cancer.
WHAT IS A Diffuse Intrinsic pontine glioma?
Jacques Grill: It is a disease located in the brainstem, which is a kind of switchboard through which all information going to the brain and descending from the brain to the body passes. When the disease develops, it remains silent for a long time until the nerve fibers passing through the brainstem start to be compressed by the increasing tumor cells. At that point, the first symptoms occur, such as eye movement disorders and walking difficulties. It is actually the combination of these two symptoms that helps diagnose a tumor of this kind.
WHY IS THIS TUMOR INOPERABLE?
Jacques Grill: Imagine someone has put silicone on your circuit board. The next morning, you realize that you need to free your circuit board to make it work again. Removing the silicone without cutting the cables is impossible. The problem is similar with tumors of the brainstem. You have tumor cells and normal cells side by side, and these lesions cannot be operated on because it would cause neurological sequelae that are too severe. Even a biopsy can cause damage. That's why they are performed in less sensitive areas, where the risk of causing neurological sequelae is lower.
THESE TUMORS ARE PARTICULARLY INOPERABLE BECAUSE THESE GLIOMAS HAVE A GREAT POWER TO INVADE THE BRAIN.
Jacques Grill: Indeed, this disease has a characteristic that other gliomas do not have to the same degree: tumor cells infiltrate and migrate. We have recently shown that these cells have characteristics similar to brain stem cells. These cells, during embryonic development, for example, are meant to move through the brain to form various cerebral structures. However, these Diffuse Intrinsic pontine glioma cells have this rapid movement capability. They send out a pseudopod, which is a kind of arm, that attaches to the surrounding healthy brain tissue and allows them to pull themselves along. Moreover, they also put all their motor fibers in the back, allowing them to have a pushing force. As a result, these cancer cells have a combined pulling and pushing force, much like a 4×4 vehicle. This is precisely one of their great invasion and migration capacities. Radiotherapy is limited to a part, usually the original location of the tumor in the pons. This indicates that areas infiltrated at a distance by cancer cells will not be treated.
WHAT WAS THE LEVEL OF KNOWLEDGE ABOUT INFILTRATING BRAINSTEM TUMORS BEFORE LAUNCHING THE BIOMEDE TRIAL?
Jacques Grill: When we launched BIOMEDE, we were unaware that the cause of this disease lay in a mutation in the gene encoding histone H3. This gene produces a protein that is used to package DNA. Because of this mutation, the cell cannot differentiate into a neuron or an astrocyte. This cell will persist in its state of stem cell, with all its characteristics, including mobility and resistance to treatments. We did not know this when we started BIOMEDE. We only knew that certain genes were present and could serve as targets. That's how we chose the 3 drugs tested in the trial (erlotinib, dasatinib, and everolimus), which targeted these anomalies. However, we also did not know if they were the best targets.
CAN YOU INTRODUCE US TO THE BIOMEDE TRIAL, THE RESULTS, AND WHAT WE HAVE LEARNED?
Jacques Grill: The unprecedented thing in BIOMEDE, and what no one had done before, was to know the biology of this tumor and perform a biopsy on all patients. We were able to discover that this disease was far from straightforward. Even if all the cells had practically the same histone H3 mutation, other tumor alterations significantly modified their behavior, causing children to have more or less extensive progressions. Some would die within a year while others could survive more than 3 years. This variability is partly the consequence of these alterations that we can define through these systematic biopsies.
Secondly, the three drugs did not show a significant difference in effectiveness. However, one of the three, everolimus, was slightly more effective than the others and especially much less toxic. Moreover, it also has the advantage of being administrable in combination with other drugs. This makes it the reference treatment for Diffuse Intrinsic pontine glioma for the continuation of this trial, BIOMEDE 2.
Finally, another thing we learned, not only during BIOMEDE 1, is that this disease is not only located in the brainstem, it can also extend to the midline of the brain, for example, in the thalamus, or at the level of the spinal cord. The anomalies found in these tumors are the same, and we can imagine treating them in the same trial. In addition, we also discovered that young adults could be affected by this disease, and BIOMEDE 1 was also open to them.
CAN WE SAY THAT, THANKS TO BIOMEDE 1, EVEROLIMUS HAS BECOME THE STANDARD TREATMENT FOR THIS DISEASE IN ALL HOSPITALS IN FRANCE?
Jacques Grill: The trial was presented this year at the American Society of Clinical Oncology (ASCO) in a plenary session, and its publication is in progress. Everolimus was selected by the scientific leaders of the BIOMEDE trial to be used as the standard for BIOMEDE 2 because it performs slightly better and is especially less toxic.
Compared to radiotherapy alone, it increases the median survival of children by an average of 3 months. However, there is great heterogeneity. Some patients did not respond to everolimus, while others are now close to healing or perhaps cured.
HOW MANY CHILDREN CAN BE CONSIDERED CURED AFTER BIOMEDE 1?
Jacques Grill: There are 8 children who are very long survivors, meaning they have survived for more than 3 years after diagnosis. Among them, Lucas is the child with the longest survival, as he was diagnosed over 6 years ago. For all these patients, everolimus, in addition to radiotherapy sessions, was the treatment they needed. We continue to monitor them every three months, and we are also looking for explanations for their longevity. We already know that they do not all have the same mutations as Lucas. We have an article under review that analyzes these patients.
Jacques Grill: He is a young patient from Belgium who came to France to participate in the BIOMEDE 1.0 trial. The treatment that was randomly assigned to him was everolimus. His disease responded significantly well to the treatment: normalization of his neurological situation, disappearance of radiological signs of the tumor with normalization of the appearance of the brainstem outside the biopsy path. After 5 years of treatment, which I dared not stop, he confessed that he was no longer taking his medication regularly. We all decided then to stop the treatment. That was a year ago, and everything continues to go well since. We continue to monitor his MRI, which remains unchanged. He is the only patient with a confirmed Diffuse Intrinsic pontine glioma in complete remission. We believe we have understood why and are now trying to replicate what happened naturally with Lucas using drugs in the cells of other children in the laboratory.
PRECISELY, HOW WILL LUCAS'S COMPLETE REMISSION HELP TO BETTER TREAT THE NEXT CHILDREN?
Jacques Grill: Having not just one but several long-term survivors inevitably pushes us to understand why, and we can do that thanks to the biopsies that were performed during BIOMEDE 1.
The configuration of mutations in the tumor means that some patients responded well to treatment. However, for a cancer cell to survive treatment targeting its mutations, it must adapt, and it does so by modifying its functioning.
Therefore, a cancer cell can be killed in two ways: either by attacking the mutation itself, when possible, or by targeting how it adapts. If you prevent it from adapting, it will not survive to the treatment without ever targeting the mutation.
So, thanks to BIOMEDE 1, we compared the transcriptome of long-term surviving patients (the set of active genes in a cell), and we can identify a genetic landscape for which the cell is sensitive to treatment. The BIOMEDE machine, as I like to call it, allows us to make these correlations, something smaller trials will never be able to do.
THE BIOMEDE MACHINE IS STILL RUNNING; IT HAS MOVED ON TO THE SECOND STAGE. CAN YOU TALK TO US ABOUT THIS NEW TRIAL, WHICH USES A NOVEL CLASS OF ANTI-CANCER DRUG, ONC 201?
Jacques Grill: ONC 201 has a different mechanism of action and precisely targets one of these adaptation mechanisms I mentioned. The cells of Diffuse Intrinsic pontine gliomas have a great need to produce energy, especially in their mitochondria.
ONC 201 will block this production by accelerating the degradation of proteins responsible for energy production in the mitochondria. So, we are not directly targeting the histone H3 mutation, but rather a mechanism of adaptation of the tumor cell. It is not the same mechanism of action as everolimus, which enhances the effects of radiotherapy.
IN CONCLUSION, CAN YOU EXPLAIN THE STRENGTH OF THE BIOMEDE TRIAL, WITH BIOMEDE 1, BIOMEDE 2, AND BIOMEDE AI, WHICH WAS NOTABLY CO-FINANCED BY IMAGINE FOR MARGO AND INCA?
Jacques Grill: There is a very simple figure. This trial is 5 times larger than the largest trial ever conducted for this disease. All of this is to say that it allows us to do things that other trials could not do. Comparing groups of patients, different situations, different ages, etc.
BIOMEDE HAS ALLOWED US TO DO MORE THAN TRIALS THAT INCLUDED THIRTY PATIENTS.
Furthermore, conducting randomized trials, meaning that we can compare the treated group with the one that received standard treatment, allows us to obtain a clear and unambiguous answer on the effectiveness and toxicity of the treatment. However, in this disease, no one had bothered to conduct a randomized trial, possibly due to the complexity of doing so for a rare cancer and because there was no effective treatment. Here, we have shown that it is feasible. We have shown that we are able to follow these patients properly and perform biopsies on everyone, thus understanding why one child will respond to one treatment.
If today I can say that everolimus is a very good drug for certain types of patients, it is thanks to the strength of this trial. No industry would have embarked on such a trial. This trial was made possible thanks to the support of organizations like INCA and Imagine for Margo and will now, I hope, inspire other teams.
—
BIOMEDE is now a hope for all children with cancer. It is proof that research is advancing and allows us to build a world with cancer-free children. Make a donation and let's continue, together, to advance research against pediatric cancers.