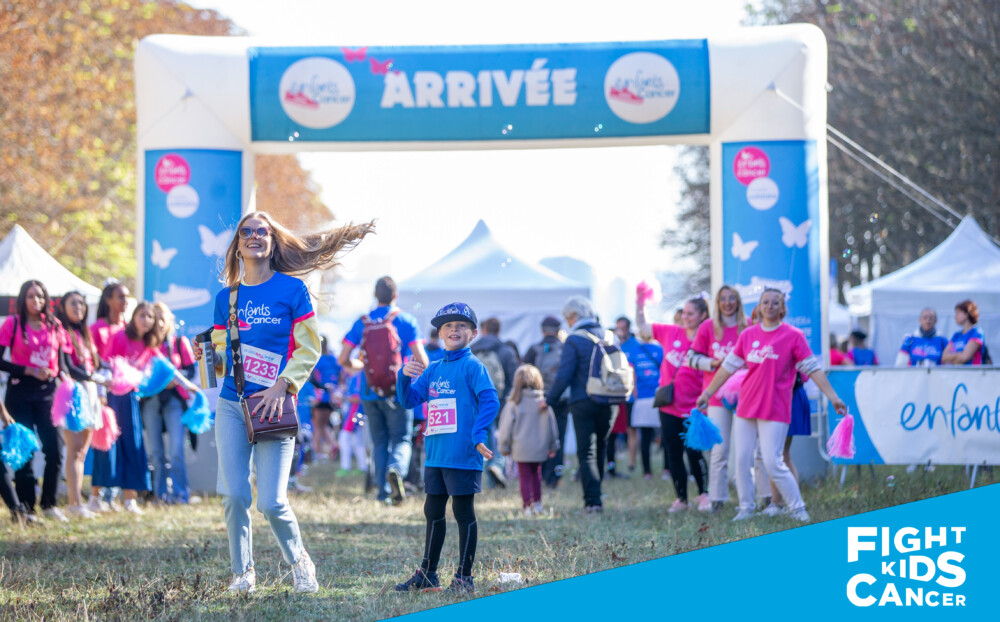 Fight Kids Cancer is a European call for projects that we launched in 2020 with the Belgian KickCancer Foundation and the Luxembourg Kriibskrank Kanner Foundation in collaboration with the ESF – European Science Foundation – and a committee of international scientific experts. Today, Fight Kids Cancer has 6 member countries. Indeed, Cris (Spain) and KiKa (Netherlands) have joined the adventure and are mobilizing alongside us to create a world with children without cancer.
In 2023, 37 research projects were evaluated according to three criteria – patient impact, scientific excellence and innovation. 9 of them have been selected and will receive funding from Imagine for Margo, as well as from KickCancer, Kriibskrank Kanner, the Cris foundation and the KiKa foundation.
100% of the funds raised during our Children without Cancer race, on September 24, 2023, will be allocated to Fight Kids Cancer projects.
FIGHT KIDS CANCER 2023 WILL FUND 9 RESEARCH PROGRAMS AGAINST CHILDHOOD AND ADOLESCENT CANCER
PATOI: A PROMISING NEW THERAPEUTIC STRATEGY AGAINST BRAIN TUMORS
Brain tumors are among the most common and deadly solid tumors in children and teenagers. Despite the improvements made by treatments such as chemotherapy, surgery and radiation therapy, the outlook for patients living with these high-risk tumors is very bleak. Moreover, in recent years, little progress has been made in the development of new drugs for brain tumors.
This clinical trial aims at testing a type of inhibitor (PARPi), developed to treat cancers caused by specific mutations. Indeed, the latter has been shown to improve the life expectancy of patients living with other forms of cancer, which makes this strategy promising for the treatment of pediatric brain tumours. Patients participating in this clinical trial will be recruited in Austria, Germany, Denmark, Spain, France, Italy, the Netherlands and the United Kingdom.
This study will be carried out within the "Access Secured – European Proof-of-Concept Therapeutic Stratification Trial of Molecular Anomalies in Relapsed or Refractory Tumors (AcSé-ESMART)" platform.
Project duration: 2 years
Number of patients: 58
Field: Clinical trial on brain tumors
Main institution: Gustave Roussy Institute, France
Principal investigator: Dr. Samuel Abbou
Participating institutions and countries: Austria, Germany, Denmark, Spain, France, Italy, Netherlands and United Kingdom
EURHOLY: A EUROPEAN PROJECT TO CURE MORE AND BETTER PEDIATRIC HODGKIN LYMPHOMA
Classical Hodgkin's lymphoma is the leading cause of cancer in adolescence, with nearly 120 cases of pediatric classical Hodgkin's lymphoma in France and 160 cases in Germany each year. Among patients, 10 to 15% of children and adolescents diagnosed relapse and risk stratification is the cornerstone of treatment for this cancer.
The objective of this project is to develop a biological marker (ctDNA) that could refine the initial risk stratification, improve the evaluation of the disease during and after treatment and facilitate the detection of relapses. In addition, this biomarker could also make it possible to reduce the toxicity of the treatment by limiting the indication of radiotherapy to patients at very high risk of relapse. On the other hand, identifying patients with very good results could lead to a de-escalation approach and thus reduce long-term morbidity due to chemotherapy.
Project duration: 3 years
Field: Translational project on Hodgkin lymphoma
Main institution: Armand Trousseau Hospital, Sorbonne University, France
Principal investigator: Dr Mathieu Simonin
Participating institutions and countries: Henri Becquerel Cancer Center, France / Justus Liebieg-University of Giessen, Germany
MEDULLODRUGS: FINDING NEW TREATMENTS IN MEDULLOBLASTOMAS
Brain cancers, including medulloblastoma, are still considered the leading cause of death in children and teenagers living with cancer. Indeed, for many years, little progress has been made in designing new treatments for these types of cancer. One of the reasons is the lack of new models to test them.
This project aims at addressing this by leveraging brain organoids. Indeed, this model makes it possible to create miniaturized versions of a tissue or an organ affected by cancer, to duplicate it and to test many combinations of drugs. The objective is to study this model on medulloblastoma and ultimately to target effective drugs, find the right combinations and turn them into potential treatments.
Project duration: 3 years
Domain: Translational project on Medulloblastoma
Main institution: University of Trento, Italy
Principal Investigator: Dr. Luca Tiberi
Participating institutions and countries: Institut Curie, France
EPITARGET-KIDS: A PROGRAM TO REVEAL THE VULNERABILITIES OF INFILTRATING BRAINSTEM GLIOMA
High-grade gliomas are malignant tumors of the central nervous system which account for approximately 40% of pediatric brain cancers and affect approximately nearly 400 new children in Europe each year. High-grade gliomas remain one of the greatest therapeutic challenges in pediatric oncology. Among these cancers, infiltrating brainstem gliomas represent the main cause of death related to brain tumors in children.
Despite the many efforts made in clinical trials, treatments targeting infiltrating brainstem gliomas have low efficacy, and lead to an overall survival of 9 to 11 months after diagnosis. One of the obstacles to identifying better treatments is the lack of appropriate in vitro models for pediatric tumors. This project aims to solve this problem by using "mini-brains", cultured in vitro, to reveal the vulnerabilities of infiltrating brainstem gliomas in order to develop new treatments.
Ultimately, this study should make it possible to lay the foundations for the development of new and personalized therapeutic strategies for infiltrating brainstem gliomas.
Project duration: 2 years
Domain: Translational project on Diffuse Intrinsic Pontine Gliomas
Main institution: International Agency for Research on Cancer (IARC), France
Principal investigator: Dr Rita Khoueiry
Participating institutions and countries: Cancer Research Center of Lyon, France / University of Strasbourg, France / Research Center for Molecular Medicine of the Austrian Academy of Sciences, Austria
ATG4TALL: A PRECLINICAL TESTING PLATFORM TO IMPROVE THE TREATMENT OF RESISTANT T-TYPE ACUTE LYMPHOBLASTIC LEUKEMIA 
Acute lymphoblastic leukemia is the most common cancer in children, and can affect B or T lymphocytes. only three out of ten children will recover.
This project, in connection with the ALLTOGETHER clinical trial (14 countries), aims at developing a test platform to determine the combinations of existing drugs that will effectively treat leukemia cells.
Project duration: 2 years
Domain: Translational project on T-type acute lymphoblastic leukemia
Main institution: Princess Maxima Center for Pediatric Oncology, The Netherlands
Principal Investigator: Dr. Frank van Leeuwen
Participating institutions and countries: University of Glasgow, UK / University of Newcastle, UK / UCL Cancer Institute, UK / University Medical Center Hamburg Eppendorf, Germany / University of Lisbon, Portugal / APHP, France / University College Dublin, Ireland / Umea University, Sweden / University of Ghent, Belgium
ENCOURAGE: CURE MORE BRAIN TUMORS AND GLIOMA
Every year more than 2500 children and teenagers in Europe are diagnosed with brain tumours, the leading cause of pediatric cancer death in all European countries. Despite advances in tumor detection and treatment, approximately 1 in 4 children and adolescents with brain tumors succumb to their disease, due to recurrence and treatment failure.
Despite advances in achieving personalized treatments, many challenges remain, especially when a treatment fails due to resistance to the drugs administered. This project aims at addressing some of these challenges, including:
prevent the development of drug resistance during treatment
pushing the limits of tumor profiling approaches in order to better detect resistant cells.
By increasing the effectiveness of therapies and preventing treatment failure, we will improve the prognosis of children with high-risk cancers.
Project duration: 2 years
Field: Translational project on brain tumors & gliomas
Main institution: University Children's Hospital Zürich, Switzerland
Principal investigator: Dr Ana Guerreiro Stücklin
Participating institutions and countries: Institut Curie, France
SKELETAL LATE EFFECTS: UNDERSTANDING AND PREVENTING THE SIDE EFFECTS OF RADIATION THERAPY
Radiation therapy is one of the major treatments for childhood cancers but has side effects, including late skeletal effects. These side effects are quite significant and radiation damage to the growing skeleton is still not understood. This project aims to understand the bone consequences of radiotherapy and to test new strategies to prevent them.
Project duration: 2 years
Domain: Translational project on the side effects of radiotherapy
Main institution: Karolinska Institut, Sweden
Principal Investigator: Dr. Phillip Newton
Participating institutions and countries: Lausanne University Hospital, Switzerland
REMODELING: MAKING IMMUNOTHERAPY EFFECTIVE FOR BRAIN TUMORS
Currently, there is no cure for the 800 children diagnosed each year with a high-grade glioma in Europe. 70-80% have an incurable diffuse midline glioma (DMG), also called GITC when located in the brainstem. Regardless of extensive therapy (surgery associated, if possible, with radiotherapy and chemotherapy), patient survival is very low, since the 5-year survival rate is only between 2 and 5%. Considerable progress has been made to improve the survival of other pediatric cancer patients. For example, immunotherapy has revolutionized therapeutic strategies, but remains ineffective against high-grade gliomas, largely due to the blood-brain barrier which greatly limits the passage of drugs into the brain.
This project aims at bringing solutions within brain tumors to reactivate the immune cells that are already present there. Non-invasive ultrasound waves will be used to open the blood-brain barrier. This project will lead to new discoveries that will provide a better understanding of how to modify the immune system inside brain tumors in children, with the ambition to discover more effective immunotherapies, which can benefit both children and adults. with this type of cancer, not only in Europe, but all over the world.
Project duration: 2 years
Domain: Translational project on diffuse midline gliomas
Main institution: Princess Maxima Center for Pediatric Oncology, The Netherlands
Principal Investigator: Dr. John Bianco
Participating institutions and countries: Leiden University Medical Center, The Netherlands
BIOESMART: CONFIRMING THE POTENTIAL OF A TREATMENT FOR EWING'S SARCOMA
Ewing's sarcoma is a complex disease, with no real improvement in the percentage of healing since 2013 (73%). A treatment specifically targeting the IGF-1R (IGF-1 receptor, a growth factor) of Ewing's sarcomas has shown promising results in the past, but have not been subsequently confirmed.
This project will aim at better understanding the role of IGF-1R in the carcinogenesis of this disease and will determine the specific patient population that would respond to a new targeted treatment. Together, the results could improve patient selection in future clinical trials with targeted therapy against IGF-1R and add an important step in the development of a treatment.
Project duration: 2 years
Domain: Translational project on Ewing's Sarcoma
Main institution: CHU Bordeaux, France
Principal investigator: Dr Jordane Chaix
Participating institutions and countries: Institut Gustave Roussy, France / Institut Curie, France / University Children's Hospital Zürich, Switzerland
ON SEPTEMBER 24, 2023, RUN SOLIDARITY AND TOGETHER ACCELERATE RESEARCH AGAINST CHILDHOOD CANCER
During the year 2023, Imagine for Margo gives you an appointment for the 12th edition of the "Children without Cancer" race on September 24th in order to run, together, against the first cause of death by disease in France and in Europe in children over one year. Indeed, following the success of the last edition which raised 2,160,000 euros for research, participants will once again be able to put on their solidarity sneakers. The goal is to raise funds to accelerate research and run or walk 5 or 10 km against childhood cancer.
This year, all the participants will mobilize for the above programs resulting from the Fight Kids Cancer 2023 call for projects. More information on the Children without Cancer race by clicking here.
If you are not available on these two dates, do not hesitate to carry out your own solidarity challenge in the colors of our association. You can find out how to help us by clicking here.